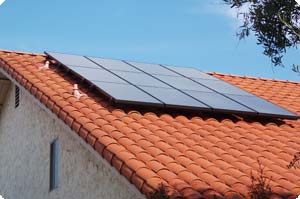 City of Santa Ana, Downtown Orange County Community Alert: Santa Ana Goes Green Again for Solar Projects
SANTA ANA, CA (March 21, 2013) – The Santa Ana City Council voted unanimously at its March 18th meeting to extend the City's Solar Permit Fee Waiver program for an additional two years.
Since the program began in 2008, the number of solar projects in Santa Ana has risen significantly. In 2012, 65 solar projects came online, a 30 percent increase from the previous year.
The program benefits both the environment and the budget. Homeowners and businesses save hundreds of dollars in permitting fees, enjoy a sizable reduction in their monthly electrical bills all while shrinking their carbon footprint.
"The benefits of this program clearly outweigh the lost revenue to the city in the form of waived fees," said Mayor Miguel Pulido. "Extending this program continues to highlight Santa Ana as a leader in promoting green technology and energy savings."
Solar installations require both a building and electrical permit as well as plan check and inspection. But the program waives the fees as an incentive to encourage energy efficiency and the use of green technology.
Solar installations throughout the state have been on a steady rise thanks to improvements in solar technology, incentives and rising energy costs. Orange County ranks fourth in the state when it comes to solar installations and fifth in megawatts installed.
The solar permit waiver program is just one of many ways Santa Ana is pioneering use of non-polluting green technology.
For the past several years city workers have been driving five hydrogen-powered Toyota Priuses as part of a pilot project with the South Coast Air Quality Management District (AQMD), the air pollution control agency for Orange County and major portions of Los Angeles, San Bernardino and Riverside counties.
The City has also begun transitioning city vehicles to alternative fuel sources including compressed natural gas (CNG) and gas/electric hybrids as part of its 5-year Alternative Energy Strategic Plan.
####
For full details, view this message on the web.
Sent by City of Santa Ana
20 Civic Center Plaza, 8th Floor/ P.O. Box 1988, Santa Ana, CA 92702