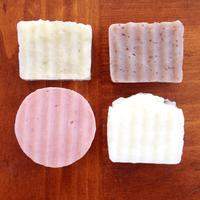 The People's Soap Company presents: Soap Making Workshop
DATE/TIME: Sunday, October 12, 1:30 pm-4:00 pm
LOCATION: The People's Soap Company at 177 E City Place Dr., Santa Ana, CA, 92705
COST/REGISTRATION: $12.
MORE INFO:
Website: http://peoplessoap.com/events/workshops/
Email: Hello@PeoplesSoap.com
Phone: 562-276-8514
Contact: Rachel Potucek
DESCRIPTION: Handcrafted soap is a superior skin cleanser, and now you can make it at home!
This new Soap Making workshop covers the basics of traditional cold-process soap. We'll discuss how to safely measure and mix ingredients, how to source ingredients, and how to add your favorite scents and colorants. We will walk through a recipe, demonstrate how to mix ingredients, and pour soap.
You will take home your own handmade soap and a recipe that you can use.
Soapmaking 101 is the first in a series of new monthly workshops on natural handmade skin products. Hosted by the People's Soap Company, these monthly workshops will shed light on beauty products made with simple, natural ingredients that you can use at home.
Future workshops include Lip Balms, Sugar Scrubs, Lotions, Foot Soaks, and more.
Take the guessing out of your projects! We'll make it together, and you can take it home!
Seating is limited. Reservations required.
About The People's Soap Company:
The People's Soap Company hand crafts original-formula soaps and skin care products in small batches, using natural ingredients and essential oils.