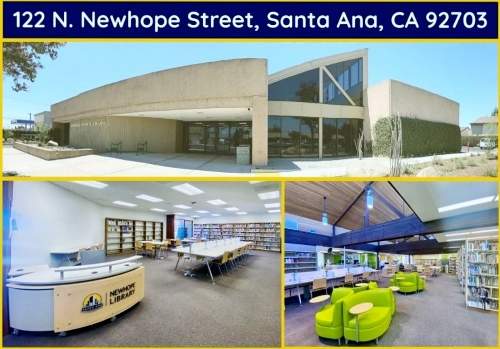 The Santa Ana Public Library is excited to begin offering curbside pickup, along with phone-based reference and check-out services, at the Newhope Branch Library today, Sept. 8.
These services will be offered 10 a.m. to 6 p.m. Monday through Friday and will give our patrons opportunities to start utilizing the Library's new and improved collections. These expanded services will continue until both library locations are able to fully reopen to the public once COVID-19 restrictions allow.
Although the Santa Ana Public Libraries are currently closed due to the COVID-19 pandemic, the Newhope Library has been busy receiving a variety of great upgrades and improvements that youth and residents of all ages will be sure to enjoy. These upgrades include:
• An improved collection with age-appropriate content for children and young adults.
• New library furniture featuring designs and colors that are fun and attractive for children and youth.
• A media lab featuring cutting-edge technology for youth activities and STREAM (science, technology, reading, engineering, art, mathematics) based programming.
• A dedicated professional children's librarian or full-time staff member available to offer improved service to youth and people of all ages.
• New exterior landscaping, sidewalks and lighting, along with interior and exterior painting to make the facility more attractive for parents and families.
• Expanded service hours each week (when the building is able to reopen to the public.) Additional hours will offer enhanced access and services for children and their caregivers.
Take a virtual video tour of the renovated Newhope Library at www.youtube.com/watch?v=BDh88wg0tF8
Please visit the Library's website at www.santa-ana.org/library/ for more information about the Newhope Branch Library and the many other services and programs offered through the Santa Ana Public Library.
La Biblioteca de Newhope Comienza sus Servicios de Recogida
La Biblioteca de Newhope, sucursal de la Biblioteca Pública de Santa Ana, se complace en anunciar el comienzo de servicios de recogida en la acera, junto con servicios de referencia y de reservación de material por teléfono, hoy el 8 de septiembre.
Estos servicios se ofrecerán desde las 10 a.m. hasta las 6 p.m., de lunes a viernes y les permitirán a nuestros usuarios la oportunidad de comenzar a utilizar las nuevas colecciones de la Biblioteca de Newhope. Estos servicios continuarán hasta que ambas bibliotecas puedan reabrirse completamente al público una vez que las restricciones COVID-19 lo permitan.
Aunque las Biblioteca Pública de Santa Ana y Newhope están actualmente cerradas debido a la pandemia COVID-19, sin embargo, durante este tiempo la Biblioteca de Newhope ha estado recibiendo una variedad de mejoras para el disfrute de los jóvenes y residentes de todas las edades. Esta modernización consiste de:
• Una mejor colección con contenido adecuado para niños y jóvenes.
• Nuevo mobiliario con diseños y colores placenteros y atractivos para niños y jóvenes.
• Un laboratorio moderno de tecnología para actividades juveniles y programación basada en STREAM (ciencia, tecnología, lectura, ingeniería, arte, matemáticas).
• La presencia de un bibliotecario profesional o miembro del personal de la biblioteca disponible para ofrecerles un mejor servicio a los jóvenes y personas de todas las edades.
• Nuevos paisajes exteriores, aceras e iluminación. Además, la biblioteca has sido pintada dentro y afuera creando un sitio más atractivo para padres y familias.
• Las horas de operación serán ampliadas, ofreciéndoles a los niños y sus cuidadores más oportunidades de acceso y servicios.
Se puede tomar un tour virtual de video de la biblioteca renovada de Newhope en www.youtube.com/watch?v=BDh88wg0tF8
Para obtener más información sobre la Biblioteca Pública de Santa Ana, su sucursal en Newhope y los servicios y programas disponible en ambos sitios, visite la página web de la Biblioteca www.santa-ana.org/library/.