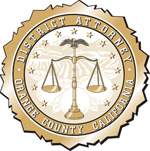 ORANGE COUNTY DISTRICT ATTORNEY PRESS RELEASE
Case # 12CF2492
Date: June 22, 2015
DRUNKEN DRIVER CONVICTED OF KILLING WOMAN BY THROWING HER FROM MOTORCYCLE IN CRASH
SANTA ANA – A drunken driver was convicted today of killing a woman by crashing into her motorcycle after making an unsafe turn into an intersection. Steven Todd Newcomer, 47, Santa Ana, pleaded guilty to the court to one felony count each of vehicular manslaughter while intoxicated without gross negligence and hit and run causing death and a sentencing enhancement for fleeing the scene of a vehicular manslaughter. Pursuant to the court's offer, he faces a maximum sentence of six years and four months in state prison at his sentencing Sept. 4, 2015, at 9:00 a.m. in Department C-5, Central Justice Center, Santa Ana.
At approximately 8:40 p.m. on April 12, 2012, 32-year-old Kimberly Krause was riding her motorcycle eastbound on Chapman Avenue approaching the intersection at Pioneer Lane in Garden Grove. Newcomer was driving under the influence of alcohol traveling westbound on Chapman Avenue toward the same intersection.
As Krause legally passed through the intersection on a green light, Newcomer made a left turn in front of the victim without yielding to oncoming traffic. The defendant crashed into the victim which threw her from the motorcycle. Newcomer briefly stopped at the scene before fleeing into a nearby residential complex to a friend's home. He failed to call 911 to seek help for the victim or render aid.
Officers from the Garden Grove Police Department (GGPD), who investigated this case, responded to the scene and located Krause lying at the corner of the intersection. She was transported to the University of California, Irvine Medical Center and pronounced dead at 9:01 p.m. due to multiple blunt force traumatic injuries.
Approximately 10 minutes after the crash, Newcomer was located by GGPD walking inside the residential complex near the crime scene. He displayed objective signs of alcohol intoxication including bloodshot eyes and emitting a strong odor of alcohol. At midnight, over three hours after the crash, the defendant had a blood alcohol level of .14 percent.
On May 12, 2015, several of the victim's family members delivered emotional impact statements to the court during a hearing in which a court offer was being determined. One of the victim's sisters said in part, "When my mother died in 2009 it was a long hard road. She battled for many years with cancer and she endured so much pain. I often asked myself, right after she passed, which would have been harder, watching a loved one die slowly but being able to grieve along with them or having a loved one die suddenly? After experiencing sudden loss with Kim, I much rather have the time to say my goodbyes and be there as a support to them so they don't die alone. My sister Kim died alone with no family to hold her hand, no one to tell her it is going to be okay as she [lay] there in pain, she [lay] on the side of a road broken and shattered and died all alone without ever having the chance to tell the world and everyone she loved in it goodbye."
The victim's grandmother submitted a written impact statement to the court which said in part, "I have been walking to this market several times a week, but now when I walk, I must walk on the sidewalk where she died. My heart breaks each time I come to this spot. I always say a prayer. You have removed a very bright light from my life."
The victim's father said in part, "I don't know if there are words to describe how it feels to suddenly lose one of your children. As a parent, your heart is full of love for your kids and full of their love for you. When Kimberly died, a part of me died. No more phone conversation, no more hopes and dreams." He went on to say, "When I found out some of the details of the accident, the other driver was intoxicated and he left the scene, it only made the hurt deeper. How could somebody do that to my daughter and callously leave her to die in the street without even checking to see how she was? I don't know. They say a person's true character is revealed under duress. If that is true, the defendant failed completely. Running away is cowardly and inexcusable."
One of the victim's sisters said in part, "My sister Kim was supposed to be a bridesmaid in my wedding. The last time I saw her was on Easter Sunday and she asked if I wanted to go dress shopping. I told her no, because it was Easter. I promised her that we would go next time we got together. Only there wasn't a next time. I never got to go dress shopping with my sister. I didn't get to have her be a part of my wedding day."
Deputy District Attorney Stephen Cornwell of the Homicide Unit is prosecuting this case.
###
TONY RACKAUCKAS, District Attorney
Susan Kang Schroeder, Chief of Staff
Office: 714-347-8408
Cell: 714-292-2718