The Santa Ana City Council has decided to rezone an 18-acre parcel of industrial land for what would be the city's largest mixed-use development to help solve housing needs in the densely populated community, according to the O.C. Register.
The site, called The Heritage, is at 2001 E. Dyer Road, just East of Redhill Ave. The project will include 1,221 market-rate apartment units, 12,675 square feet of retail commercial space and 5,415 square feet of restaurant space.
While city officials are excited about building housing under the flight path of the John Wayne Airport the flip side is that we have lost an industrial parcel – meaning that we lost access to higher paying jobs that may have resulted from industrial development.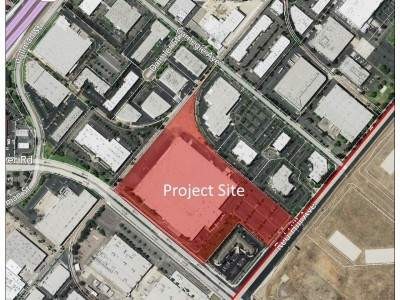 The development is planned as a five story building. It will take over for a structure that was mostly vacant for 14 years. City officials claim the development will add $1 million annually to Santa Ana's general fund (yes that does mean that our City Manager, David Cavazos, will ask for another bonus and another raise).
City officials also claim that the site will result in 275 permanent jobs but it is highly unlikely that these jobs will be high paying jobs. They will most likely be minimum wage retail and service jobs.
The developer also agreed to contribute nearly $10 million to an off-site below-market-rate housing project, at East First Street between Grand Avenue and I-5, as city officials will not force them to add affordable housing at The Heritage project.
The developer also agreed to help pay for widening eight surrounding intersections and an on-ramp to the 55 freeway, and to provide a more-than-1-acre public park and walking trails.
Read all the details about The Heritage Project here.