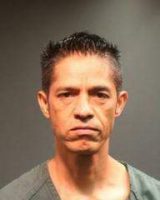 Santa Ana Police Department
UPDATE – Wanted Suspect Luis Eduardo Distancia In Custody. Suspect turned himself in to the SAPD Jail staff.
Suspect Distancia was booked on Felony Hit & Run – Causing Great Bodily Injury/Death.
Additional – Traffic Investigators arrested Distancia's wife – Alma Rosa Nave (47) for CPC 32 -Accessory After the Fact
– ORIGINAL MESSAGE –
Subject: Luis Eduardo Distancia (46)
Male, Hispanic, 5-10, 160 lbs., Brown, Brown
Warrant – $50,000.00
Suspect Vehicle: White, 2006, Ford, Econoline van, (IN CUSTODY)
Synopsis: On 03/17/17 @ 4:47pm, officers responded to a vehicle vs. motorcycle collision at Standard Av. and Walnut St. Upon arrival, the officers located the victim lying in southbound lanes of Standard Av. with life threatening injuries. The motorcyclist later died of the injuries sustained in the collision.
Video surveillance of the collision showed the above listed vehicle traveling north on Standard Av. then west on Walnut St. in front of the motorcyclist. The motorcyclist collided with the front right fender of the van. The driver of the van fled from the scene without identifying himself, but was followed by a witness. The witness provided a license plate for the van and the van is owned and operated by Distancia.
The van was recovered on 03/18/17; however, Distancia has failed to contact the police.
Anyone with information on the whereabouts of suspect Luis Eduardo Distancia is asked to contact SAPD Traffic Division: Inv. W. Hadley at (714) 245-8214, Email: whadley@santa-ana.org, or Orange County Crime Stoppers at 1-855-TIP-OCCS.