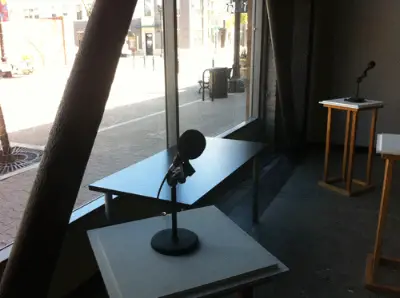 ARTIST IN RESIDENCE
CURRENT EXHIBITIONS
Take advantage of your last opportunity to enjoy our current round of exhibitions:
Here In Your Space: Guy Ben-Ner, Christian Jankowski and Gillian Wearing
February 4 – April 15, 2012
The Cacophony Society Zone Show: You May Already Be A Member
February 4 – April 15, 2012
Imaginary Realism: Works on Paper
March 3 – April 15, 2012
GRAND OPENING CELEBRATION
Join the activities as our tenant/collaborative partners The Road Less Traveled and Belly Sprout as they
kick-off their official Grand Opening Celebration!
The day of activities includes:
1-6pm: belly sprout "campfire" trailer
2-3pm: kids music
2-4pm: DIY nature printing
3-5:30pm: kauzbots coloring
4-8pm: wood carving
5-7pm: lips and cheeks
5-6pm: fern book signing
6-8pm: front porch pops
6-7pm: henna
7-9pm: music/food/beverage, local honey sampling from the Backyard Bees
+ free klean kanteen with every 100$ purchase (while supplies last)
OC ART BLOG RE-LAUNCH
Celebrate OC Art Blog Re-Launch with a party and art exhibition
in the back room of Memphis at the Santora, 7-10pm.
PARKING:
Car Parking on 3rd Street (structure @ Sycamore) / Bike Parking on 2nd
GALLERY HOURS:
Closed Mondays and Holidays
Tuesdays – Sundays 11.00 am – 4.00 pm.
Extended hours: Friday & Saturday 11.00am – 7.00 pm.
(First Saturday of the month galleries are open until 10.00 pm)
We look forward to having you join us!
Grand Central Art Center
a unit of Cal State University Fullerton's College of the Arts
125 N. Broadway
Santa Ana, CA 92701