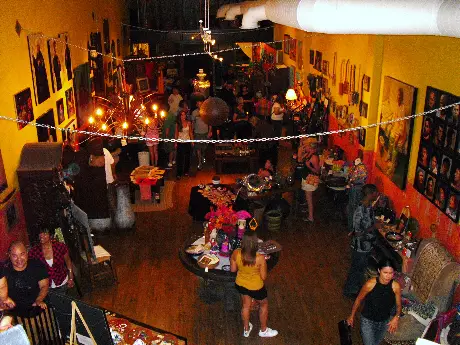 The next Santa Ana Artist Village Art Walk is coming up this Saturday, Oct. 2, rain or shine.
The event starts at 7pm and is free for all to attend and enjoy the atmosphere. Come, introduce yourself to a local artist, invite your friends, grab a bite, lots to do in Santa Ana Artist's Village.
Venues Open :
Grand Central Arts Center
Orange County Center of Contemporary Art
Santora Art Building – The Santora serves as the anchor of the Artist Village hosting art studios, galleries, restaurants and a handful of retailers. Open daily, Santora comes alive during the Art Walk, a must see!
Spurgeon Art Studios – We all recognize the clock tower located above bustling Fourth Street, who knew that beautiful Spurgeon Building was home to dozens of art studios and galleries? The Art Walk is the best time to visit Spurgeon and absorb the creativity located in the heart of Santa Ana.
And while you're there, you might as well eat!
Click here for directions and a map.