The City of Santa Ana has awarded U.S. Department of Housing and Urban Development (HUD) Community Development Block Grant (CDBG) funding to twenty-one nonprofit organizations serving Santa Ana residents. These public services include an emphasis on crime prevention, intervention and/or suppression efforts for children, youth and/or families, Economic Development, Tenant services assistance programs, Fair Housing, and two Summer Night Lights programs.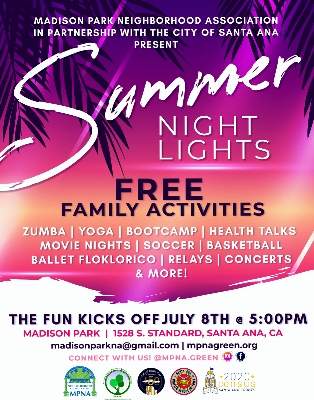 Summer Night Lights will kick-off on Monday July 8th at 5:00 p.m. in partnership with Madison Park Neighborhood Association, at Madison Park located at 1528 S. Standard Ave Santa Ana CA 92707. The program will run through the end of August with events scheduled Monday – Friday from 5:00 – 8:00 p.m. Also, starting Thursday, July 11 through August 9 on Thursdays and Fridays evenings, Neutral Ground to host the Summer Night Lights program at El Salvador Park located at 1825 W Civic Center Dr, Santa Ana, CA 92703. These events will have a variety of activities for residents to enjoy including Zumba, yoga, soccer, basketball, concerts and more!
Through the City's partnerships with local nonprofit organizations, we are able to extend our reach and provide services to our most vulnerable Santa Ana residents. Here is a complete list of nonprofit programs that will receive CDBG funding for 2019-20:
America On Track, Brighter Futures for Children of Prisoners, $45,000
Boys & Girls Club of Santa Ana, College Bound, $40,000
Charitable Ventures of Orange County, Summer Night Lights, $30,000
Community Action Partnership of Orange County, Economic Empowerment – Your Money, Your Goals, $30,000
Community Legal Aid SoCal, Domestic Violence Prevention Project, $38,000
Court Appointed Special Advocates (CASA) of Orange County, Transitional Age Youth, $30,000
Delhi Center/CIELO, Family Economic Success Initiative, $93,205
Delhi Center, Teens Engages in Learning & Leadership, $68,461
Delhi Center/ALBI, School Break Enrichment, $61,557
Heritage Museum of Orange County, The Borrowing Barn, $31,320
Lutheran Social Services of So. Cal., Victim Intervention, $30,000
Nati's House DBA Neutral Ground, Summer Night Lights, $60,000
Orange County Fair Housing Council, Santa Ana Fair Housing Education , Counseling & Enforcement, $60,000
Orange County Therapeutic Arts Center, Crime Prevention & Intervention for Willard Middle School & Neighborhood, $70,000
Public Law Center, Consumer & Community Organizations Legal Assistance, $30,000
Public Law Center, Affordable Housing & Homelessness Prevention, $30,000
Second Chance Orange County, More Second Chances, $50,000
Taller San Jose Hope Builders, Business Applications, $30,000
The Cambodian Family, Plan Ahead Youth, $45,000
Young Men's Christian Association of Orange County, Financial Assistance for Sports & Aquatics, $30,000
The City of Santa Ana has also awarded U.S. Department of Housing and Urban Development (HUD) Emergency Solutions Grant (ESG) funding to homeless service organizations to engage homeless individuals and families living on the street, to provide operations and essential services at emergency shelters, to provide rental assistance to rapidly re-house individuals experiencing homelessness and to prevent individuals and families from becoming homeless, and to collect data through the homeless management information system. For a complete list of organizations that will receive ESG funding for 2019-2020, please follow this link: https://www.santa-ana.org/homelessness/emergency-solutions-grant
About City of Santa Ana
Santa Ana is downtown for the world famous Orange County, California. As the County Seat, home to a vibrant evening scene and one of the most diverse communities in California, Santa Ana is gaining national attention for its efforts to innovate and address a changing County. Over 1,200 City employees work hard every day to deliver efficient public services in partnership with our community to ensure public safety, a prosperous economic environment, opportunities for our youth, and a high quality of life for residents. Learn more at http://www.santa-ana.org.