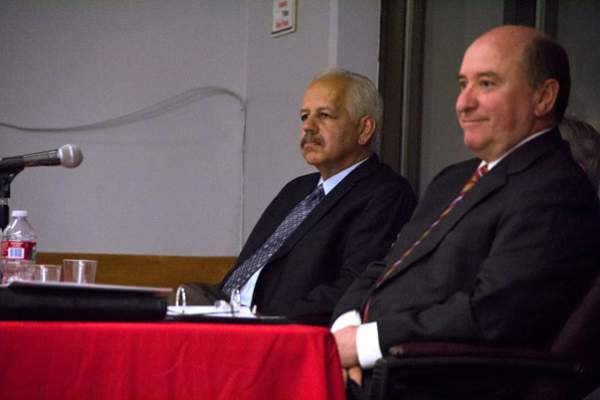 Santa Ana College: A Culture of Racism
By: Renee Miller
A recent article in the Harvard Business Review titled, "Leaders Can Shape Company Culture Through Their Behaviors" provides insight into a significant problem at Santa Ana College. It's a problem that has no place in our society today, let alone an institution that serves our future generations.
The author, Jim Whitehurst, CEO of software company Red Hat, writes that culture is created by the actions of an organization's leader. No better example is the embarrassing behavior of exiting RSCCD Chancellor Raul Rodriguez and how he enabled a culture of racism to envelop Santa Ana College.
Soon after Rodriguez blasted the five Caucasian board members of the Coast Community College District in an e-mail as behaving in a passive aggressive racist manner, my Hispanic faculty colleagues began accusing a Santa Ana College administrator, who happened to be Caucasian with the same accusations. The fact that Rodriguez didn't even apologize for his remark and insisted that "…you have to speak out on things and say it the way it is", no doubt empowered my colleagues to continue their racist assault.
I'm sure they thought if the leader of the entire college district behaves in such a manner, why can't they "say it the way it is".
The administrator who was the recipient of the attacks eventually was forced to leave, but the culture of using racial accusations against others at Santa Ana College didn't end. The replacement for the ousted Caucasian administrator was an African American woman who quickly turned around and filed a claim of racism against her faculty subordinates.
It's evident these egregious accusations that now permeate Santa Ana College began with the example set by the district's leader. As Whitehurst writes, "…how [leaders] behave drives the kind of culture we end up with". Regrettably Whitehurst admits, it's not an easy task to change a culture.
Whitehurst concludes his article by advising leaders to look in their mirror and make sure they are setting the kind of behavioral example for everyone to follow. It's obvious Rodriguez never bothered to look in his mirror, but the elected trustees of the RSCCD can and should know while it's hard to change a culture, it's much easier to change a leader.
Renee Miller was a Professor, Disabled Students Program and Services at Santa Ana College for eleven years before her retirement in December.
Bonus – here is what the RSCCD press release announcing Rodriguez' pending retirement would have stated if the district had been honest with the public:
Adios Raúl Rodriguez – Without the Spin
After much reflection and discussion with my family, I have made the decision to announce my retirement from the Rancho Santiago Community College District (RSCCD) today rather than face the embarrassment of my contract not being renewed at Monday's board meeting.
This advance notice will provide the Board of Trustees the necessary time to organize and execute a thoughtful and comprehensive search for my successor in the hopes they won't make the same mistake they made when I was selected in 2010.
I am grateful for the opportunity to have served as the Chancellor of this district for what will be a nine-year tenure – a tenure that would have never occurred if someone had just done a Google search and learned about the problems at my previous employer, San Joaquin Delta College.
When taking this position, I had two main goals. One was to make as much money as possible for my CalPERS retirement and secondly to engage in a few projects like the Saudi partnership that would enhance my resume in retirement.
I believe that despite all of the events that severely challenged my efforts; most specifically those initiated by the faculty union, my goals have been met.
At the beginning of my tenure, our district had a very positive culture. The RSCCD was a place faculty, staff and administration wanted to be. Today it's a place where they want to leave as district employees work in fear of their immediate supervisors. All of this was accomplished by enabling our HR department to bully employees and allow managers to work with immunity when it came to disciplining subordinates. Consequently many employees left or were terminated allowing our budget to stabilize and giving me the opportunity to spend like a drunken sailor at the District office.
I am grateful to the Board of Trustees for not terminating me after the Saudi debacle, the problems at OEC, the Melissa Hernandez lawsuit, the "pay for play scheme", my embarrassing drinking binge, my push to spike my salary, the ADA lawsuit, the Brown Act violations and most importantly lie after lie.
For those of you who remain in our district and specifically our elected trustees who will be involved in hiring my replacement, let me leave you with a few words of wisdom that you need to think about as you search for a new chancellor.
Fool me once, shame on you. Fool me twice, shame on me…