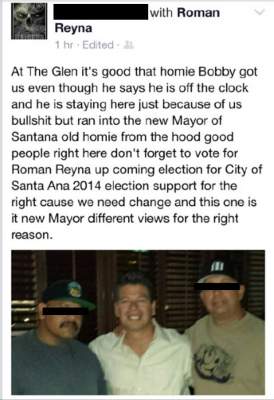 The OC Register and the Voice of OC continue to ignore the biggest story in the 2014 Santa Ana City Council races as the Santa Ana Police Officers Association (SAPOA) has asked Santa Ana Councilman Roman Reyna to explain why he was caught posing with hard core gang bangers in a picture that was circulated on Facebook.
Today SAPOA sent a second letter to Reyna, stating "In no way was this letter meant to be judge and jury of your active participation or association with known criminal enterprises however as supporters of your 2012 City Council campaign we felt strongly that a formal response was necessary."  
Reyna of course did not respond to SAPOA's first letter, which was sent to him on October 14, 2014.  SAPOA wrote in their follow-up letter, "It appears that you have chosen not to respond, which is disheartening.  In a time when anti-law enforcement sentiment is at an all-time high, your silence on the issue has destroyed our confidence in your leadership and support for Santa Ana law enforcement personnel who put their lives on the line for your community every day."
SAPOA also stated that "The Santa Ana Police Officers Association no longer supports you in your role as a member of the Santa Ana City Council and Public Safety Committee."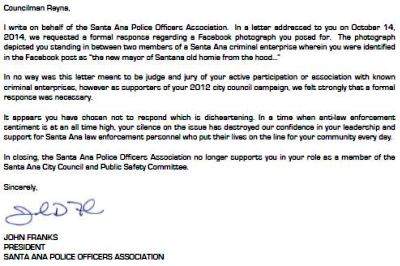 This comes on the heels of the announcement today that two more law enforcement associations, the Anaheim Police Association and the Peace Officers Research Association of California, have both rejected Reyna – and they have also declined to endorse Councilwoman Michele Martinez and Councilman David Benavides.
In a city where fighting and lowering crime remains the top issue for most residents, these developments bode ill for Team Santa Ana – Benavides, Reyna and Martinez.  No wonder Mayor Pro Tem Sal Tinajero cut bait and left their teetering alliance.
Reyna's campaign for Mayor is effectively over.