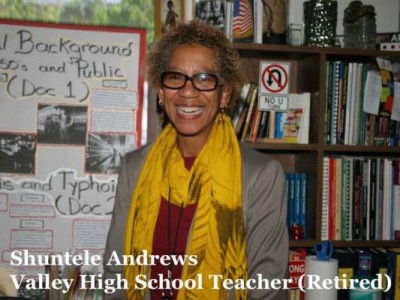 Shuntele Andrews, a retired Santa Ana teacher, is running for the SAUSD School Board in November. She taught Social Studies and History at Valley High School in Santa Ana for 35 years. She was raised in Santa Ana since the age of 11, attending Santa Ana public schools, going on to UCI to earn her Bachelor's and then the University of Southern California to get her Masters of Education and teaching credentials. She has received the Teacher of the Year award three times and served as the Social Science/History department chair for five years. She has also served on the Blue Ribbon commission and several hiring committees for the principals of Valley High School. Upon retirement she has continued to work for SAUSD as a substitute and CELDT tester.
According to her website:
As an educator in SAUSD, she is keenly aware of the issues facing our students in our public schools. She believes that our school district deserves a leader who will work diligently to stay in touch with the stakeholders at the ground level:

Shuntele will be a diligent worker for students, parents, teachers/staff and community to ensure their voice is heard and needs are addressed. She will be a leader who will work with others to identify problems and generate solutions,rather than allowing win-lose outcomes. She pledges to work tirelessly to ensure a quality education for all. She believes in the students she serves. She supports the teachers who work every day to make a difference in the lives of our youth. She respects the parents who have entrusted us to educate their children. And she recognizes that an educated community will greatly contribute to California's future.
Other candidates for the SAUSD School Board who are running in November include Cecilia Aguinaga, a community activist who serves on the OC Vector Control Board; Eric Alderete, an attorney and Planning Commissioner; and Valerie Amezcua, a Supervising Probation Officer at the Central Youth and Family Resource Center in the City of Santa Ana.  Two SAUSD School Board Trustees are up for reelection – John Palacio and Audrey Yamagata-Noji.  Both have been in office far too long.