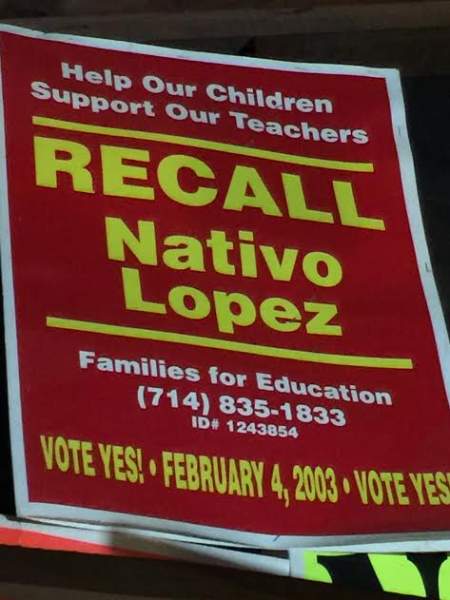 It looks like recalled SAUSD School Board Member Nativo Lopez is up to his old tricks again. Yesterday Lopez announced a statewide campaign of "non-violent, non-cooperation" with all police authorities, according to the O.C. Register.
Lopez, a longtime ally of current SAUSD School Board Member John Palacio and current Santa Ana City Councilman Sal Tinajero, heads up Hermandad Mexicana, an organization that portends to help immigrants.
You might remember that Lopez was recalled in part because of bad advice he gave to immigrants in the past – and allegations that he was charging immigrants for that advice. Lopez took a stand against teaching kids the English they need to succeed in this country.
Needless to say telling immigrants not to work with the local police is completely idiotic. In fact no other immigrant advocacy organizations are supporting Lopez on this.
Old dogs can't learn new tricks and Lopez is a very old dog indeed. I hope folks will blow him off again. His advice is insane.
The last thing immigrants should do is refuse to work with the police. Particularly when the immigrant community is often preyed upon by gangs and drug dealers who need to get arrested and locked up.
Lopez is of course upset because many Orange County City Councils are fighting back against the California Sanctuary Law. Well regardless of how you feel about immigrants that law appears to be unconstitutional. Immigration is a federal matter. The Sanctuary Law was an overreach by Governor Jerry Brown and our one-sided liberal state legislature. I am fairly sure it will be overturned by the courts – bur probably not until the matter reaches the U.S. Supreme Court.
Let us not forget that former President Barack Obama had both houses of Congress on his side when he was first elected. Instead of reforming immigration he opted to pass a socialist health care plan. And then he went on to set deportation records.