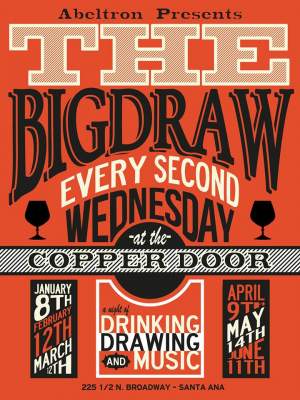 The Copper Door is hosting a rebranded Big Draw for the new year on Wednesday, January 8, 2014, at 8 pm.
They are inviting all of their 2013 artists back, and replacing the scribble slam with live jazz combo music. Beer, Art, and Music combine again as they start the New Year right. Here's what you can see on January 8th at The Copper Door:
Featured Artists
Just Magic & Sandwiches
Gypsy Pea Magoo
Fernando The Artist
Ron Pete
Noel Madrid
Cathleen Abalos
Sean Robertson
Tristan Cruz
Joe Ded Art
Johnnie Dominguez
Steve Minty
Ben Swenson
Jesse Bullock (Psychophile)
9:00-10:15 – Collin Mac Quartet
10:15-Midnight Cello
Midnight-Last Call

Abeltron
The Big Draw is a monthly event happening every second Wednesday at the Copper Door. They are creating a cool and classy space for artists to hang out, network, and draw. A space for featured artists to display and sell art in an organic way that showcases their talent, and fits in with the unique atmosphere of the Copper Door. Add to that good music, extended DJ sets, the rad folks that come out, and the 30+ feet of communal sketchpad and you get The Big Draw.