We are hearing from our readers that the Santa Ana School Police has lock down Esqueda Elementary on Main And Warner St., in Santa Ana.
One reader tipped us off that there was an alleged bomb threat at Main and Warner.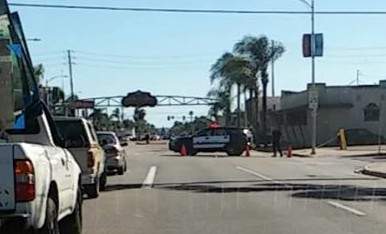 The Santa Ana School Police's Twitter page has no mention of this. However the SAUSD is often quite slow in communicating with the public. We did get a picture from a reader, as seen above.
UPDATE: At about 2:30 p.m. someone reported seeing a "device similar to a bomb" near the school, said Deidra Powell, spokeswoman for Santa Ana Unified. At about 4:30 p.m., investigators determined the object was not an explosive and deemed the scene safe, according to the O.C. Register.
Some parents were notified via automated phone calls – but those calls went out quite late. Students were held on campus initially but were finally released through the back of the school on Anahurst Place, according to the SAPD.  The last students were out by 4 p.m.
Esqueda School is located at 2240 S Main St, in Santa Ana.