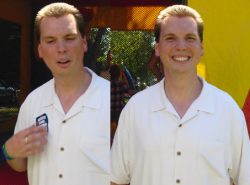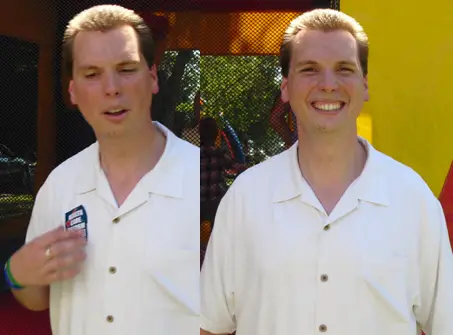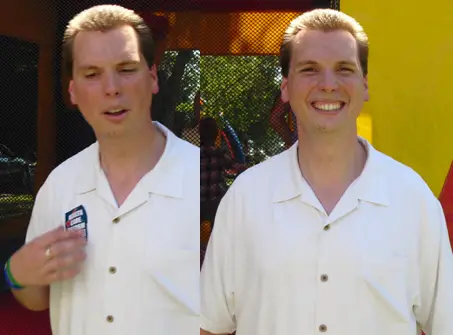 Loading ...
It looks like there is going to be quite a battle for Assemblyman Jose Solorio's seat in the 69th Assembly District, in 2012.  Rumor has it that Jordan Brandman, a Trustee at the Anaheim Union High School District, is going to run for the seat.  If so, he will likely face off against attorney Vincent Sarmiento, who replaced Solorio on the Santa Ana City Council a few years ago.
Brandman has steadily drifted to the Republican Party since he first got involved in politics.  He says he got involved in politics after taking a political science class at UCI, taught by recently termed out Anaheim Mayor Curt Pringle, who once was the Republican Leader in the State Assembly.
Here are a few of Brandman's gaffes over the years:
I ran into him at the O.C. Labor Day event at the Santa Ana Zoo in 2009.  I walked up and asked if I could take his picture.  Sure, he said, but first he said he needed to take off his health care reform sticker.  As you can see in the picture above, that is precisely what he did.
Conservative Republican Chris Norby decided to run for O.C. Clerk-Recorder, in the Spring of 2009, and before he backed out of that race Brandman endorsed him, over moderate Republican Hugh Nguyen, who lives in Santa Ana.  Click here to read about that small fiasco.
This year, Brandman endorsed yet another Republican, John Leos, for the City Council, over two Democrats who were endorsed by their party – John Santoianni, who has been a leader in Orange County's gay community; and businessman Bill Dalati.  Click here to read about the Leos endorsement.  It was all for naught as Leos lost.
In 2009, Brandman, voted to reject a $50,000 donation from Anaheim's After School Fund, even though he served on their board of directors!  Click here to read about that.
Brandman appeared at a candidates forum on Sep. 29, that was run by the League of Women voters.  He was asked "Do you support State legislation that requires school textbooks to include history and contributions that gay, lesbian, bisexual, and transgender persons have specifically made towards California's development?"  Brandman turned bright red when he heard the question.  Then he said "this is a non-issue, there is no place for gay rights in our textbooks and schools".  Click here to hear the audio recording of Brandman's comments.
And to cap all of these fiascos, this year Brandman was endorsed by a slew of Republicans who were big supporters of Prop. 8 – the measure that banned gay marriage.  Click here to see that list of GOP haters.
According to his Facebook page, Brandman is the Director of External Affairs for Orange County Clerk-Recorder Tom Daly, who also supported Leos.  Daly also opposed the Gigante Supermarket that opened in Anaheim a few years ago and he had a reputation for cracking down on the poor people that live in Anaheim's seedier hotels.
Brandman appears to be single and there is no mention of any girlfriends on his Facebook page.  He has no children.
So what about Sarmiento?  Here are a few excerpts from his bio:
Sarmiento's family has lived in and around Santa Ana since 1965.  He attended John Muir Elementary, Sierra Elementary, and Willard Intermediate Schools, back when the landscape was still dominated by orange groves.
Sarmiento is socially progressive but he is a moderate on business and fiscal matters.  He has worked hard to attract new business to Santa Ana and to help develop jobs.
Sarmiento serves on several boards and committees. He is a member of the Santa Ana YMCA Board, which is constructing a brand new center on the south part of the City.  He also serves on the Annual Cesar Chavez Event Committee that commemorates Cesar Chavez Day every March 31st.  In addition, Councilmember Sarmiento is the City's representative to the Orange County Transportation Authority's Central Corridor Advisory Committee to evaluate transportation options within the Central Orange County region, which includes Santa Ana.  As a business advocate he continues to work closely with the Santa Ana Merchants Association to promote the needs of small businesses along Main Street.
Sarmiento previously served on the Community Redevelopment and Housing Commission and has previous experience on both the Historic Resources and Human Relations Commissions.  Vincent is also a member of the Hispanic Bar Association and is a Board Member of the Grain Project.
Sarmiento earned a Bachelor of Arts in Economics from UC Berkeley and a law degree from UCLA. He is a strong advocate of education and sees a great opportunity to cultivate a desire in our youth to succeed.  Prior to owning his own law firm, Sarmiento was an associate attorney at an Irvine based law firm and clerked for the Los Angeles County Superior Court and the Office of the District Attorney in Riverside.  Vincent was also a Legislative Fellow for the California Assembly, serving the Assembly Human Resources Committee.  He also just completed the Senior Executives in State and Local Government Certificate Program at the John F. Kennedy School of Government at Harvard University.
Sarmiento and his wife, Eva, operate a home office together in the 1920's home they purchased several years ago and rehabilitated.  The home is now considered a historical property with landmark status.