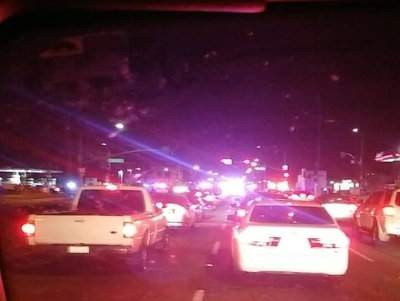 A police pursuit started tonight in Santa Ana at around 9:45 p.m., according to CBS. Apparently the suspect was wanted for a traffic stop but he fired a weapon at the officers.  One of our readers reported hearing two gun shots. CBS reported that no one was injured by the bullets.
Our readers reported that the chase was at one time at 5th and Euclid and also affected Newhope St., McFadden, Harbor, Euclid. Reportedly two to three helicopters were involved as well as up to 12 police cars.
Police officials said they put down a spike strip that ended up disabling the suspect's vehicle's right rear tire.  The strip appeared to have worked as witnesses observed sparks coming from the tire.
The chase continued in Fountain Valley where it slowed further.  The suspect was seen talking on his cell phone while he was driving.  It was not know if the suspect was talking to his friends or family or perhaps with the police who may have been trying to convince him to pull over.
CBS reported that "as of 10:50 p.m., the chase was still going with the suspect making U-turns and evading officers."
The suspect also ran red lights and drove erratically.
Eventually the suspect's vehicle's front driver's side tire began to smoke and finally at around 11 p.m. the suspect's car was stopped and the police drew their guns.
But the ordeal wasn't over yet.
When the car stopped, police SWAT teams tried to remove the suspect from the car by using a smoke bomb and water from a fire truck, according to the O.C Register.
A witness told the Register that the police were asking the driver to put the gun down, and telling onlookers to get out of the way as the driver was making threats to discharge his weapon again.
As of 12:30 a.m. on Sunday, the suspect remained in his car.
A witness reported that the suspect was in a cop car just after 3:30 on Sunday morning. However the OC Register had posted a new article indicating that the suspect was arrested at 2:40 a.m.