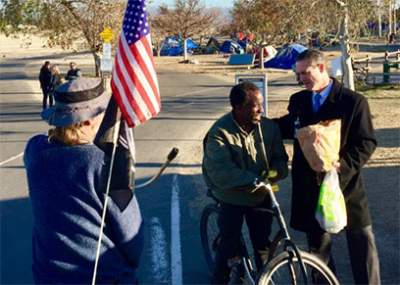 Supervisor Todd Spitzer returned to the Santa Ana River Trail (SART) on February 20 to hand out warm breakfast sandwiches he purchased as County employees worked to connect individuals with services.
Judge David O. Carter held a hearing in the field at the Santa Ana River Trail and lifted the temporary restraining order, allowing the County to resume removing the homeless population from the Santa Ana River Trail and continue the necessary environmental remediation project.
There are two exit doors, a) accept temporary shelter, assessment, and County services, or b) continue in the spiral of aimless existence and be removed from the river trail.
This will be a methodical, on-going effort and it will take all resources from cities, counties, regions and the State of California to work cohesively on a long-term solution.
On Wednesday, February 14, Supervisor Todd Spitzer joined Federal Court Judge David O. Carter for a 4-mile walk along the Santa Ana River Trail (SART), where the County has sought to remove a homeless encampment that has contributed to a deterioration of the riverbed and led to incredible public safety issues.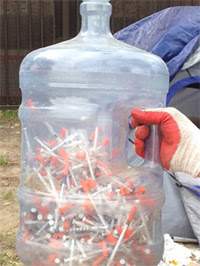 Needles collected by OC Public Works show just how dangerous conditions on the SART have become.
The Board of Supervisors met in a special meeting on February 15 to approve an agreement with Orange County Catholic Worker, reached under the guidance of Judge Carter, to address the homeless encampment on the Santa Ana riverbed.
Conditions on the riverbed are unsafe and unsanitary. In just two weeks, from January 22 to February 5, the County removed over 4,000 needles and more than 115.94 tons of waste. It is unequivocally clear the river bed is not safe for human habitation. The County worked very closely with Judge Carter and the party litigants to be humane and compassionate in approaching how to close the Riverbed.
Effective February 15, the County is proceeding to:
Expand the shelter capacity at the Bridges at Kraemer Place year-round, whole-care shelter
Create temporary short-term shelters at existing County owned properties
Provide approximately 400 vouchers for motel and hotel stays, transportation services, and food vouchers for the individuals currently encamped on the riverbed
Enter agreements with WISEPlace Shelter for Women for shelter services
Work in collaboration with US Department of Veterans Affairs, other local agencies, and nonprofits to coordinate delivery of services