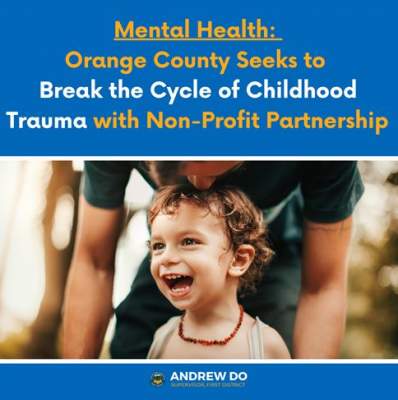 Orange County is partnering with a local non-profit organization to break the cycle of childhood trauma.

On May 25th, the Orange County Board of Supervisors approved nearly $9.3 million for The Priority Center, formerly known as the Child Abuse Prevention Center, to break the generational cycle of childhood trauma through early intervention and mental health services.

"The rise of mental illness and depression among our youth, brought on by the pandemic, not only affects the individual child, but their families, friends, and even classmates," said Supervisor Andrew Do, Chairman of the Orange County Board of Supervisors.

Through its contract renewals with the County, The Priority Center will expand three key programs:
"Our goal as a county is to build a robust continuum of care for mental health services, and children's mental health is no exception," Supervisor Do added.

The Priority Center has provided services to more than 300,000 children and parents since its founding in 1983. Their programs range from in-home visitations for infants and toddlers to crisis stabilization of children and adults experiencing a mental health crisis, including suicidal or homicidal thoughts. Just last year, their programs directly served over 6,000 children and families.

A recent report from the Centers for Disease Control and Prevention (CDC) reported that during the pandemic, children from ages 5-11 who sought mental health services increased 24%, while children ages 12-17 who sought mental health services increased by 31%.

"The mental health impacts of the pandemic for most children have been just as severe as for adults," said Supervisor Do. "Programs that provide services to both the children and their families promote the development of healthy skills."

Since taking office in 2015, Supervisor Do has focused on reforming Orange County's mental health system to better serve the needs of our community. Last year, the Board of Supervisors approved the development and construction of the County's second Wellness Campus, expanding the mental health delivery system and continuum of care in Orange County for all residents regardless of age and payor. With the continued partnership with The Priority Center, Orange County's System of Care will be far more expansive for all populations in Orange County.

Orange County Chairman Andrew Do represents the First District communities of Santa Ana, Garden Grove, Westminster, Fountain Valley, and Midway City. One of the first officials in the state to propose a face covering mandate, Chairman Andrew Do is advocating for science-based COVID-19 policies. In addition to health and safety-based COVID-19 response planning, he has reformed Orange County's mental health services, expanded access to health care, and led efforts to combat homelessness