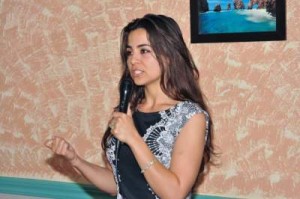 Karina Onofre, a former Santa Ana City Council candidate and current representative of State Senator Bob Huff hosted a seminar about immigration reform at her office this Wednesday evening.  Over 50 people attended, including SAUSD Trustee Ceci Iglesias , who is also a District Representative for Senator Mimi Walters, Sergio Picchio, a District Representative for Assemblyman Don Wagner, Teresa Hernandez, owner of Cielito Lindo Restaurant and a member of the Orange County Lincoln Club's Board of Directors, who spoke about the Lincoln Club's 3 point common sense immigration reform, OC Board of Education Trustee Robert Hammond, former Anaheim Council candidate Bill Dalati, and Santa Ana businessman Mike Dalati, who is running for the SAUSD School Board in 2014.
Onofre is hosting a free employment seminar on Wednesday, May 29, 2013, at 7 pm . There will be a speaker from the City of Santa Ana as well as one from CAL Works.  The meeting will be at Onofre's office, located at 726 S. Main St., in Santa Ana.
Click here to check out Onofre's website.