In case you are wondering what has been going on today on S. Grand Ave., it turns out that at approximately 2:20 a.m. this morning a car accident described as a "mass casualty incident" occurred at S. Grand and E. McFadden, according to the OC Fire Authority.
OCFA fire engine units were dispatched to the traffic collision. Upon arrival, the units found a 2-vehicle collision with 3 patients: 1 trapped.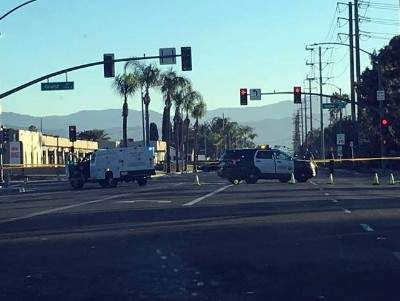 One person had to be freed using the Jaws of Life, according to the O.C. Register.
Another person could be seen being driven away from the scene in a patrol vehicle, making it appear he or she was being taken into custody, according to KTLA.
That did in fact turn out to be the case. Jesus Segura Herrera, a 29-years-old resident of Orange, was arrested on suspicion of driving under the influence.
A preliminary investigation showed a black Acura TL driven by Herrera was headed north on Grand Avenue at 2:20 a.m. on Dec. 2 when it rear-ended a white Toyota Scion XD at the intersection of South Grand and East McFadden Avenues, according to the SAPD.
The victim that died was in the back seat of the Scion.
Herrera has prior arrests for DUI dating back to 2008, according to the SAPD.