ORANGE – Todd Spitzer's campaign has sued the Orange County Registrar of Voters to keep certain information out of the official guide that the county sends voters in the mail. Today, at 1:30 p.m., attorneys for Todd Spitzer will argue before the Honorable Nathan Scott in Department W2 of the Superior Court that the voters should not receive information detailing the office's scandals ranging from sexual harassment to racism, corruption and criminal misconduct.
"These are important facts that the voters need to make an informed decision about who should be the next District Attorney," said former Marine Judge Advocate Pete Hardin. "Without understanding the scandals unfolding within the District Attorney's office, how are voters supposed to know what qualifications are important in selecting a replacement? From rampant sexual harassment to racism and pay-to-play corruption, voters are entitled to hear why we need new leadership. Democracy dies in darkness, and Todd Spitzer wants to blindfold the voters."
In documents filed with the court, Spitzer's attorneys avoid challenging the truth of data detailing soaring crime and homelessness, instead choosing to plead with the court to remove a section of Pete Hardin's candidate statement detailing the various scandals facing the office. That passage reads:
"The District Attorney's office is plagued with scandals, from rampant sexual harassment and racism that has undermined the prosecution of dangerous offenders, to pay-for-play political corruption and criminal misconduct. Furthermore, a man that sexually harassed multiple women was promoted after allegations of his misconduct were reported."
Spitzer's lawsuit relies on winding arguments and a number of factually misleading claims in a court filing, with his attorneys making the audacious claim that the statements above are untrue. For example, Spitzer's attorneys go so far as to claim Spitzer "did not do anything wrong" in the ever-growing sexual harassment scandal. Spitzer's attorney's also rely on an Elections Code Section which specifies that candidates may not reference other candidates. However, no other candidates were referenced in Hardin's ballot statement.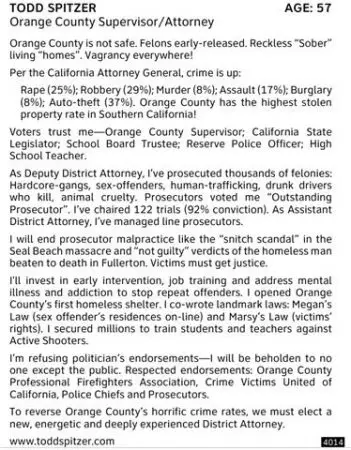 Ironically, when Spitzer ran for District Attorney in 2018, his candidate statement similarly referenced issues within the District Attorney's office such as the "snitch scandal" and "not-guilty verdicts." Pete Hardin's candidate statement similarly references issues within the District Attorney's office that he seeks to overcome once elected.
"Whether he's lying to the court to cover up his racist remarks, violating the county's abusive conduct policy, arresting someone at Wahoo's Fish tacos, or attempting to keep public information from the voters, Todd Spitzer doesn't think the rules apply to him," said former Marine Judge Advocate Pete Hardin.
Current Orange County District Attorney Republican Todd Spitzer's tenure has been defined by scandal. Most recently, Spitzer made racist remarks when discussing whether or not to seek the death penalty against a Black man. Four women in Spitzer's office have filed claims asserting Spitzer promoted an employee and close friend despite having been made aware of the sexual harassment complaints against him. Spitzer later allowed the employee, who was the best man at his wedding, to retire with top flight benefits. Spitzer also attempted to drop sexual assault charges against high-profile defendants, leading a judge to remove him from the case. Survivors of the sexual assault survivors were "dragged through the mud" and "grossly mistreated" by Spitzer for two and a half years, leading two of them to abandon their case.
Spitzer has been involved in an evidence booking scandal, a jailhouse informant scandal, and has defamed a victim of OC's deadliest mass shooting as retaliation for peaceful protest. Spitzer has also defended a DNA collection program known informally as "Spit and Acquit" that coerces defendants to give up their DNA to law enforcement, a practice the ACLU has called "unconstitutional."
Pete Hardin is a former Judge Advocate in the U.S. Marine Corps, Deputy District Attorney, Special Assistant United States Attorney, and one of Southern California's leading litigators running for Orange County District Attorney. Pete entered public service when, in 2005, he earned his commission as a second lieutenant in the Marine Corps. A combat veteran, Pete served in Helmand Province, Afghanistan in 2011 and 2012 as a member of 1st Reconnaissance Battalion. Pete is a member of the Democratic Party.
Orange County's rapidly changing electorate has led Democrats to now outnumber Republicans in Orange County holding a 4.1% voter registration advantage.