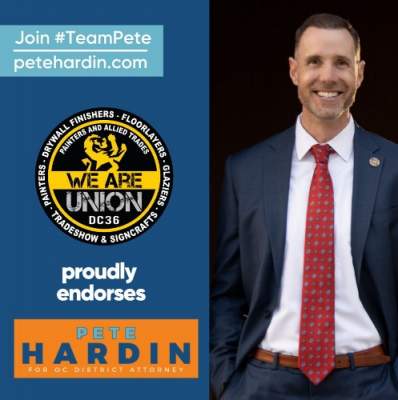 (ORANGE COUNTY, CA) – Criminal attorney Pete Hardin was charged with adultery by the Marines, among other charges, and was eventually allowed to resign in lieu of a court martial according to military corruption whistleblowers.
The claims about Hardin first appeared in a military corruption news site on May 6, 2021. At that time, the author explicitly gave Hardin the opportunity to respond to the claims and offered to correct the record if any of the information was inaccurate.
Since then, Hardin has failed to respond to those allegations or deny any of the other specific claims.
In addition to charges Hardin faced in the Marines, numerous other seriously troubling claims about Hardin appear in the news site. Orange County voters deserve to know the truth about who Pete Hardin is, and what he has done.
"It appears the same individual who is trying to parachute into Orange County and turn us into Los Angeles may also have some serious moral character flaws, or worse," said Orange County District Attorney Todd Spitzer.
"The whistleblower allegations are consistent with what has been shared with me directly by individuals who worked with Pete Hardin while he was on probation at the DA's office," Spitzer continued. "Hardin resigned from his position in 2014, shortly after admitting some of these allegations to his colleagues."
"Hardin doesn't belong within 1,000 feet of a school, let alone the District Attorney's office, if these allegations are true. I am calling on Pete Hardin to come clean and tell us the truth about his past and these very serious claims," Spitzer concluded.
About Todd
Todd Spitzer has dedicated his life to keeping families safe and was inspired to dedicate his career to public service as an Orange County Supervisor, former California State Assembly Member, and now as the Orange County District Attorney. A champion for public safety, District Attorney Spitzer is recognized as an expert on security issues, whose reputation as an advocate for victims' rights is respected nationally. Spitzer chaired the ground-breaking campaign for Proposition 9, Marsy's Law, the nation's most comprehensive Victim's Bill of Rights, and served as State Co-Chair for Proposition 83, the nation's toughest sex offender punishment and control law as well as Proposition 69, which requires the collection of DNA samples from all felons.
Fighting to protect our community, he joint-authored Megan's Law on the Internet, the landmark legislation requiring the release of public information related to sex offenders and as a former deputy and assistant district attorney he handled complex criminal matters while managing line prosecutors. As Third District Supervisor, he secured Orange County's first year-round, supportive housing shelter for the homeless, established an Ethics Commission, gained passage of pension reform measures, and strengthened public safety oversight by expanding the Office of Independent Review.
Spitzer earned his bachelor's degree from UCLA (1982), a master's degree in Public Policy from UC Berkeley (1989), and a Law Degree from UC Hastings School of Law (1989). While at Hastings, Spitzer was awarded the George Moscone Fellowship, for the law student dedicating his career to public service. Spitzer is a former high school teacher and reserve police officer assigned to DUI enforcement and patrol duties. He is a doting father of a son and daughter and a dedicated husband to Judge Jamie Spitzer, Associate Chief Judge for the South, Division of Workers' Compensation.