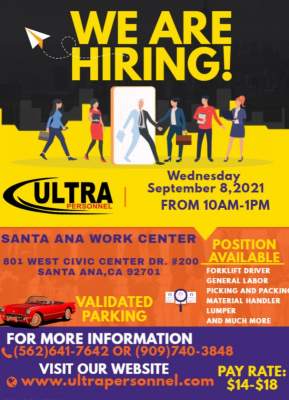 Are you looking for work? The Ultra Personnel Agency is hosting a job fair at the Santa Ana Work Center on September 8, from 10 a.m. to 1 p.m.
The Santa Ana Work Center is located at 801 W. Civic Center Dr. Suite 200, in Santa Ana.
Various positions are now available including Forklift Driver; General Labor; Picking and Packing; Material Handler; Lumper and much more.
Free parking will be offered at the Santa Ana Work Center.
Upload your resume here and get started on finding a great new job today!