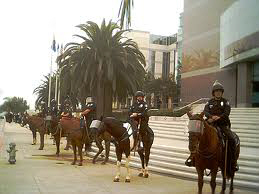 Occupy Santa Ana is set for Saturday, October 22 at 12:00pm – Sunday, January 22, 2012 at 3:00pm, according to their Facebook page, which includes this introduction:
Occupy Orange County is leaderless resistance movement in solidarity with Occupy Wall Street with people of many colors, genders and political persuasions. The one thing we all have in common is that We Are The 99% that will no longer tolerate the greed and corruption of the 1%. We are using the revolutionary Arab Spring tactic to achieve our ends and encourage the use of nonviolence to maximize the safety of all participants. Join us in occupying Orange County, CA on October 22nd 2011 at the Ronald Reagan Federal Building in Santa Ana. We are the 99% and we DO exist in Orange County.
Whether or not these folks will be allowed to camp out in Santa Ana is a matter of some debate.  According to the OC Weekly, "Santa Ana Police officials and City Attorney Teresa Judd met with members of Occupy Santa Ana yesterday and informed them that the municipal code doesn't allow camping on city property. "
The tea baggers were thrilled to see the SAPD on horses when they protested in Santa Ana.  I have a feeling it won't be the same deal for Occupy Santa Ana.
More info about Occupy Santa Ana: