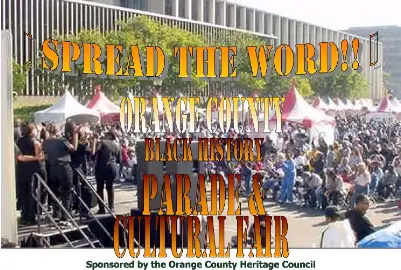 FOR IMMEDIATE RELEASE
Media Contacts: Rev. Leon W. Clark, (714) 478-5967, LWCandAJC@sbcglobal.net and Dr. DeVera Heard, (714) 336-5888, deverah@sbcglobal.net
Orange County Black History Parade and Cultural Fair Will Be held in Downtown Anaheim
Anaheim, California (January 24, 2012) – The 32nd Annual Orange County Black History Parade and Cultural Fair will be held Saturday, Feb. 4, 2012, from 10 a.m. – 4 p.m. in Downtown Anaheim. The event celebrating African American heritage and history begins with the parade, which starts at Anaheim Boulevard at 10 a.m., and concludes with the cultural fair at the Center Street Promenade, after the parade. Featuring food vendors, retail booths, entertainment, a History Walk, community organizations and a Youth Village, the fair promises a day of delicious food, good fun and great entertainment. Admission and parking are free.
The event is sponsored by the Orange County Heritage Council and is organized by the black community as a commemoration of African American contributions to the strength of Orange County. This countywide celebration is enjoyed by families, churches, community groups, businesses, schools and elected officials of all ethnicities.
Spectators of the parade will have prime viewing on Anaheim Boulevard, between Lincoln Avenue and Broadway.  Anaheim Mayor Tom Tait is the grand marshal.
The cultural fair entertainment includes Phil Gates, Kiki Shepard, comedian Lester Barrie, Oscar Snow, singer Mykenzie Ward, Leeah D (Miss Expo), Kim Harrell, 513 Elevators, Venson Quarles, teen sensation ChyAnne, church choirs, Anaheim High School Cheerleaders, spoken word and more.
Churches and community organizations participating in this year's celebration include New Spirit Baptist Church, Orange County Section – National Council of Negro Women, Orange County Old School Revisited, Delta Sigma Theta Sorority, Graceland Community Baptist Church, Reach Community Church, 100 Black Men of Orange County, Orange County NAACP, Santa Ana Black Historical Society, Christ Our Redeemer AME, The G.R.E.E.N Foundation, Greater Light Missionary Baptist Church, Leon Owens Foundation, James S. Stapleton Foundation, Word of Faith Pentecostal Church, The Sickle Cell Foundation of Orange County, Grand Divas MC, Black in OC, Black Business Network of Orange County and many more.
###
The Orange County Black History Parade and Cultural Fair is organized by the Orange County Heritage Council. Log on to the event website at OCHeritageCouncil.org, "Like" Orange County Heritage Council on Facebook and follow @OCBlackHistory on Twitter for more details.