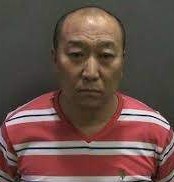 ORANGE COUNTY DISTRICT ATTORNEY PRESS RELEASE
Case # 14HM08787
Decenber 10, 2014
SAN CLEMENTE MASSAGE THERAPIST FACES ADDITIONAL CHARGES OF SEXUAL BATTERY AGAINST FOUR ADDITIONAL VICTIMS
NEWPORT BEACH – Additional charges have been filed against a San Clemente massage therapist for inappropriately touching four other women. Ping Li, 51, San Clemente, was charged today with six misdemeanor counts of sexual battery against six victims. Li was initially charged with four counts of sexual battery. The four additional victims came forward after seeing media coverage about this case. If convicted, Li faces a maximum sentence of three years in jail and a $12,000 fine. At his arraignment on Nov. 3, 2014, Li was ordered by the court to no longer work as a massage therapist and to not enter any massage parlor during business hours. The defendant is out of custody on $100,000 bail. He is scheduled for pre-trial Jan. 12, 2015, at 8:30 a.m. in Department H-7, Harbor Justice Center, Newport Beach.
At the time of the crime, Li owned and operated Massage Clover in San Clemente. Li is accused of working as a licensed massage therapist. Between June 4, 2014, and Oct. 4, 2014, Li is accused of committing sexual battery by inappropriately touching a massage parlor employee and five clients for the purpose of sexual arousal, sexual gratification, and sexual abuse on six separate occasions. The victims reported the crimes to the Orange County Sheriff's Department, who investigated this case.
The investigation in this case is on-going. Anyone with additional information or who believes they have been a victim is encouraged to contact OCSD's Special Victims Unit at (714) 647-7418 or Supervising District Attorney Investigator Paul Carvo at (714) 834-7538.
Deputy District Attorney Ed Grubaugh is prosecuting this case.
###
TONY RACKAUCKAS, District Attorney
Susan Kang Schroeder, Chief of Staff
Office: 714-347-8408
Cell: 714-292-2718