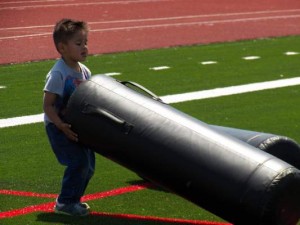 Young athletes who have suffered multiple concussions need significantly longer recovery periods than first-time sufferers, according to a new study that spent a year tracking youths following their head injuries, according to CBS News.
You have to wonder if any amount of contact football is appropriate for our kids.  This report has been published at the same time that yet another new youth football league is starting up in Santa Ana – the Sun Devils.  They accept kids as young as 5 years of age into their league. Santa Ana also has a Pop Warner league called the Monarchs.  Both leagues offer flag football too.
My 10 year old son wants to play football and while my wife prefers flag football I think I rather just keep him in Little League baseball.  After reading the new report about concussions I certainly will not let him play contact football – ever.
Is any amount of contact football safe for our kids?