My daughter Becky loves to go to Chapter One: the Modern Local, with her boyfriend Alan.  She says they have the best drinks in town.  Now the guys who opened that restaurant have expanded with a new venture – a hipster deli called C4: the Cure for the Common.  It is located across from the Memphis at Santora, in the historic 1931 Empire building at the corner of Third and Broadway, near Chapter One.
For lunch, C4 plans to offer a variety of sandwiches – from classics like corned beef and pastrami to specialty creations such as a beef tongue sandwich served with baby octopus and heirloom potato salad.  Sandwich prices will range from $6 to $18 – the latter price reserved for some "crazy," yet-to-be named sandwiches, Hall said, according to the O.C. Register.

C4 will be a deli shop in the area–a place that'll sell chorizo and carne asada, for sure, but also some pastrami, morcilla, and other wonderful meats, along with the sandwiches to feed ravenous government workers, according to the OC Weekly.
C4's Facebook page mentions House-cured meats, house-baked breads, house-made pickles. Draft and bottled beers, wines by the glass and by the bottle. Sandwiches, soups, salads, beer, wine, cheese."
Their website offers an interesting description of what they hope to accomplish – It will speak to the Art Deco exterior of this historical building, the Empire Building, with Craftsman warmth as well as grandiose odes to 20's stylized Art Deco sunbursts, long lines and the sheer, stark beauty that Rockefeller would've been envious he didn't design and own for himself. Gotham City meets Frank Lloyd Wright, while maintaining the non-"Disney-esqe" way of making it actually feel like it authentically has been operating for decades with an inviting warmth.
But does Downtown Santa Ana need another hipster eatery?  If you ask me the best sandwiches in town are not the sort you will pay through the nose for at C4.  Give me a torta any day!  What is a torta, you ask?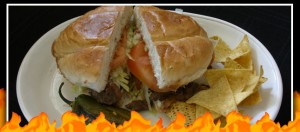 In Mexico a torta is a kind of sandwich, served on an oblong 15 cm firm, crusty white sandwich roll, called a bolillo, telera, birote, or pan francés, depending on the region. Tortas can be eaten cold or hot, grilled or toasted in a press in the same manner as a cuban sandwich or panini.
Garnishes such as avocado, poblano, jalapeño, tomato, and onion are common. The dish is popular throughout Mexico, and is also available anywhere with a large number of Mexican immigrants. In Northern Mexico, the torta is very frequently called lonche by influence of the English "lunch", as it may be eaten during lunch break.
The sandwich is normally named according to its main ingredient:
Torta de jamón, ham-filled torta
Torta de aguacate, avocado-filled torta
Torta de adobada, adobo meat-filled torta
Torta de huevo, scrambled eggs-filled torta
Torta de milanesa, milanesa meat-filled torta
But the torta ahogada, the "drowned" torta of Guadalajara is so called because it is smothered in a red sauce. Different fillings are available and they may be mixed to create an original torta.
Due to the practicality of being hand-carried, tortas are sold at massive events such as football matches, parades, and outdoor concerts, but they are also available for breakfast, lunch, or dinner at dedicated establishments or sold as street food by food carts.
There are no tortas at C4!  They just offer these:
No thanks….I will stick with tortas!  And they are a better value too, at $3 to $9 at most restaurants.
You can buy delicious tortas in Santa Ana at: