The Santa Ana City Council voted unanimously tonight to support a potential move of the Chivas USA soccer team to the Willowick Golf Course (that's right – Usual Suspects fave Carlos Bustamante voted for that too!), but my sources insist that this deal simply is not going to happen.
The real news is the budget report that our City Manager, Paul Walters, posted online today.  In it he references a report prepared by a consultant, Management Partners, Inc.  They took a long hard look at the City budget, which features a $30 million dollar deficit, and recommended several painful fixes, including:
Negotiated Compensation Reductions – this means convincing the Fire and Police unions to stop ripping us off.  The O.C. Register posted an article this past week that summarized the extent of the rip-off.  Click here to read that article.
Outsourcing – I like this part the best – and fully support outsourcing all of these departments:
 Fire dispatch
 Fleet maintenance and management
 Library operations
 Street sweeping
 Animal services
 Santa Ana Zoo
 Workers' compensation administration
 Ambulance transport
 Parking meter operations and enforcement
Tax increases!  No bueno.  These could include: higher Utility User Taxes, higher Sales Taxes, a 911 Communications Fee, Fee Increases, a Utility Franchise Fee, a City Prison Enterprise Fund, higher Paramedic Subscription Fees, higher False Alarm Fees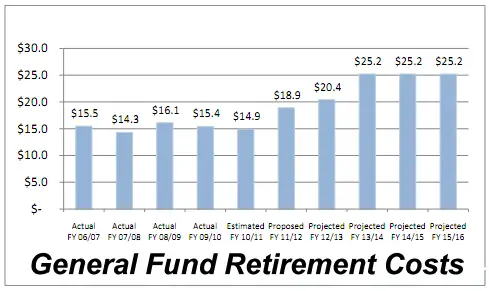 In general we should oppose any fee or tax hikes.  To do this to us during this awful recession would be salt in the wound.  I would prefer to see the City go bankrupt so we can get out of our union contracts and renegotiate them at will.  Just look at the graphic above and consider what we are paying for retirement costs – $25 million per year!  That is one of the reasons why we have a huge budget deficit.  We have been ripped off by our police and firemen!
Naturally the Usual Suspects are riled up about the Chivas and were out in full force at tonight's City Council meeting – to also speak out in defense of Bustamante (although his vote for the Chivas deal will certainly cost him some of this support).  But the real issue is our city budget deficit.  Will our residents wake up in time to smell the coffee?