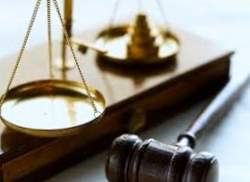 FOR IMMEDIATE RELEASE
Defendant Who Described Three-Gang Coalition As a "New World Order" Sentenced to 25 Years in Prison
LOS ANGELES – A gang member who helped manage a coalition of three rival street gangs in Northeast Los Angeles that were brought together by orders issued by a member of the Mexican Mafia was sentenced today to 25 years in federal prison.
Manuel Vallejo, also known as "Boxer," 36, of Los Angeles, was a leader and "shot caller" of the Toonerville gang. He was sentenced this morning by United States District Judge Philip S. Gutierrez for conspiring to violate the federal Racketeer Influenced and Corrupt Organizations (RICO) Act, committing a Violent Crime in Aid of Racketeering (VICAR), conspiring to traffic methamphetamine, and carrying a firearm during and in relation to the commission of a VICAR. During the sentencing this morning, Vallejo told the court, "Even if I stole God's calculator, I couldn't add up all the mistakes I've made."
Vallejo was among 22 defendants named nearly three years ago in an innovative federal racketeering indictment relating to the unification of three rival street gangs under Mexican Mafia member Arnold "Arnie" Gonzales. The "peace treaty" imposed by Gonzales in 2010 brought together the Frogtown, Toonerville, and Rascals gangs to control the narcotics trade and other illegal activities in an area that ran along the Los Angeles River from Elysian Park to Burbank for the benefit and profit of Gonzales and the criminal enterprise.
As alleged in the indictment, while Gonzales was incarcerated in Pelican Bay State Prison after being convicted of murder, he appointed Frogtown gang member Jorge Grey to be his emissary on the streets. The indictment accused the 22 defendants of conspiring to operate a criminal enterprise involving various criminal offenses, including narcotics trafficking, extortion, and money laundering.
According to court records, less than two years after Arnold Gonzales imposed the truce on the gangs, Vallejo was recorded describing the criminal enterprise as a "New World Order" or "United Neighborhoods," and akin to the "United Nations."
As part of his plea agreement, Vallejo admitted that he was one of the principal members of the conspiracy and, in that capacity, collect "taxes" from both members and associates of the enterprise and individuals engaging in narcotics trafficking or other illicit activities within the territory controlled by the enterprise. He also personally participated in selling and helping arrange the sale of narcotics within enterprise territory, thereby generating revenue for Gonzales and the enterprise.
"The defendant in this case has been held accountable for the violent and egregious acts he perpetrated upon our community." said United States Attorney Nick Hanna. "This case should put violent gang members on notice that our federal agents and prosecutors are coming for them."
In pleading guilty to the VICAR charge, Vallejo further admitted that in December 2011 he shot victim R.G. multiple times in response to victim R.G.'s efforts to advance his own authority within Toonerville, and in order to enforce compliance with the dictates of the "peace treaty." Vallejo was subsequently recorded on multiple occasions bragging about having shot victim R.G., whose gang moniker was "Grinch." In September 2012, for example, Vallejo threatened to "reenact the one who stole Christmas" against fellow gang members who were operating behind his back. Vallejo was also recorded in April 2013 stating that he did not care if people knew he had shot victim R.G. because "ain't nobody gonna go testify."
"The career criminal in this case spent his life committing violent acts and intimidating others into coercion as part of his gang activity," said the Bureau of Alcohol, Tobacco, Firearms and Explosives (ATF) Los Angeles Field Division Special Agent in Charge Bill McMullan. "As justified, he is one of many from this case going to prison for a very long time. ATF is committed and dedicated to removing violent criminals like these from our society. Justice has been served."
The RICO case is the result of Operation "Gig 'em," an investigation conducted by the Bureau of Alcohol, Tobacco, Firearms and Explosives, Violent Crime Impact Team; the California Department of Corrections and Rehabilitation, Office of Correctional Safety, Special Service Unit; the Glendale Police Department; and the Los Angeles Police Department.
Out of the 22 defendants named in the indictment, all but three have pled guilty, with most of those who have been sentenced receiving substantial prison sentences, including a 20-year sentence for defendant Jonathan Zepeda (Defendant No. 3) and a 15.5-year sentence for defendant Giovanni Olvera (Defendant No. 5). The three remaining in the case face trial this summer.
This case is being prosecuted by Assistant United States Attorneys Carol Alexis Chen and Alexander B. Schwab of the Organized Crime Drug Enforcement Task Force.