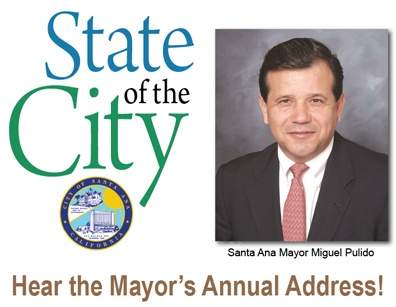 Santa Ana's annual State of the City Breakfast is set for 6/10/2015 from 7:30 am to 9:00 am at the Bowers Museum, located at 2002 N. Main St., in Santa Ana.
This event will feature, as is customary, keynote speaker Mayor Miguel Pulido.
Tickets cost $85 each.  Click here to RSVP or call 714-541-5353.
Event Sponsors:
Bowers Museum – Event Venue
ELLS Certified Public Accountants & Business Advisors – Bronze Sponsor
Westfield MainPlace – Bronze Sponsor
AT&T – Corporate Sponsor
Crevier Classic Cars – Corporate Sponsor
Vanguard University – Corporate Sponsor
Citizens Business Bank – Event Sponsor
DGWB Advertising – Event Sponsor
Discovery Cube Orange County – Event Sponsor
First American Financial Corporation – Event Sponsor
Kaiser Permanente – Event Sponsor
Rancho Santiago Community College District – Event Sponsor
Santa Ana Unified School District – Event Sponsor
Southern California Edison  – Event Sponsor
So Cal Gas Company – A Sempra Energy Utility – Event Sponsor
THINK Together – Event Sponsor
Threat Management & Protection – Event Sponsor
Waste Management, Inc. – Event Sponsor
Wells Fargo – Event Sponsor
CHOC Children's – Nonprofit Sponsor