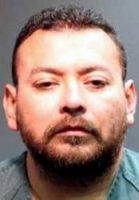 Jose Luis Martinez, 34, was arrested and booked on two counts of arson after the SAPD alleged that he set his own two-story house on fire last night, at the 1000 block of Washington Avenue on fire, at around 8 p.m., according to the O.C. Register.
The house was a total loss, according to the OCFA.SAPD police officers showed up at the residence after receiving calls about a "family disturbance" due to a recent divorce. When the officers arrived they found that Martinez was inside the house "breaking stuff."

When the police officers tried to talk to Martinez he went back into the house, where the police believe he started the fire. They arrested him when he tried to escape from the scene.
Eight people were displaced from the destroyed home. The American Red Cross is trying to help them.
OCFA investigators are still trying to determine the exact cause of the fire.
Martinez appears to be a "doctor." He is being held at the men's central jail in Santa Ana on $250,000 bail. He is set to be arraigned on Monday.