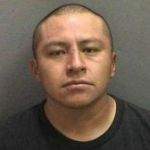 Orange County District Attorney Press Release
For Immediate Release: October 10, 2014
MAN SENTENCED TO 80 YEARS TO LIFE IN PRISON FOR SHOOTING-MURDER OF VICTIM PREPARING COFFEE IN BAKERY
SANTA ANA – A man was sentenced today to 80 years to life in state prison for the shooting-murder of a victim in a Santa Ana bakery while the victim was preparing a cup of coffee. Israel Pena Lopez, 38, Santa Ana, was found guilty by a jury Sept. 17, 2014, of one felony count of murder, possession of a firearm by a felon, and a sentencing enhancement for the personal discharge of a firearm causing death. Lopez also pleaded guilty today in an unrelated case to one felony count each of shooting at an occupied vehicle with a sentencing enhancement for committing the crime for the benefit of a criminal street gang. He was sentenced 15 years in state prison to be served concurrent to the 80 years to life in state prison sentence.
Co-defendant Frankie Esteban Giraldo, 32, Santa Ana, was charged with murder but was found not guilty in this case.
At approximately 7:40 p.m. on Oct. 13, 2010, Lopez and Giraldo drove in separate vehicles to Panaderia La Chapina bakery on Edinger Avenue in Santa Ana. Lopez parked in a marked stall in front of the bakery and Giraldo drove through the parking lot before parking on a side street. The defendants got out of their vehicles and met outside the bakery.
Lopez walked around to the front of the business while Giraldo waited at the west entrance. Both defendants entered the bakery simultaneously. Lopez shot 32-year-old Alejandro Sanchez several times in the back, murdering him. Sanchez had his back turned while preparing his coffee at a counter at the time of the murder.
Both defendants left the restaurant after the shooting. Lopez returned a few moments later and again attempted to shoot the victim, who was lying on the floor, but Lopez's firearm failed to discharge. Lopez then fled the scene. Witnesses called 911 and the Santa Ana Police Department investigated this case.
At the sentencing today, the victim's niece submitted an impact statement letter to the court which described how much she loved her uncle and what he meant to her. She went on to explain what a great person he was and how much she misses him.
Senior Deputy District Attorney Cynthia Herrera of the Homicide Unit prosecuted this case.
###
Tony Rackauckas, District Attorney
401 Civic Center Drive West
Santa Ana, CA 92701
Contacts:
Susan Kang Schroeder
Chief of Staff
Office: 714-347-8408
Cell: 714-292-2718