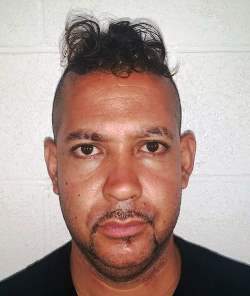 Tustin Police Department Press Release
Commercial Burglary Arrest
Today at approximately 8:04 a.m., the Tustin Police Department received an alarm call at Don's Cyclery, located at 121 N. Prospect Ave.  At the same time as the alarm call, the Tustin Police Department receveived a phone call that provided information of a possible suspect seen leaving the location on a tricycle.
Officers arrived on the scene at Don's Cyclery and found a glass door was smashed.  Within minutes of the original call a Tustin officer located Jose Manuel Elias (D.O.B. 7/8/81) in the area of First St. and Lyon Ave. in the City of Santa Ana.
When located Elias was in the process of sawing a cable lock off of a bicycle frame which was locked to a wrought iron fence.  Next to Elias was a new-lookking adult sized tricycle.
Elias as detained and a subsequent investigation showed that he was involved in the burglary at Don's Cyclery.  Elias was arrested and booked at the Orange County Jail on the following charges:
PC 459 Burglary
PC 466 Possession of Burglary Tools
H&S 11364.1 Posession of Narcotic Paraphernilia
Elias also had an outstanding warrant for his arrest.