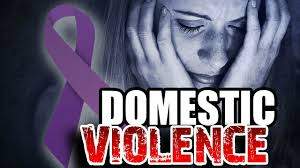 An unidentified man was arrested early Wednesday morning after he allegedly stabbed his wife in the chest and face during an argument at around 3 a.m., in their Santa Ana apartment, in the 800 block of East 15th Street, according to the O.C. Register.
The couple's four children, who range in age from 2 to 17, were inside the apartment during this attack.  Their mother was found by SAPD police officers after they responded to the call.  She was injured and bloody as she was stabbed multiple times.
The alleged attacker fled from the scene on a motorcycle, which was found abandoned or perhaps crashed shortly before 4:30 a.m., near West Taft Avenue and North Glassell Street in Orange.
The man was eventually found by SAPD police officers.  He resisted arrest and so the officers had no choice but to deploy a K-9 and also had to use a taser before finally taking the man into custody, on charges of suspicion of attempted murder, mayhem and child endangerment.
The man was taken to a hospital for treatment after he was arrested.  He had a few dog bites.  There is no word yet as to the condition of his wife.