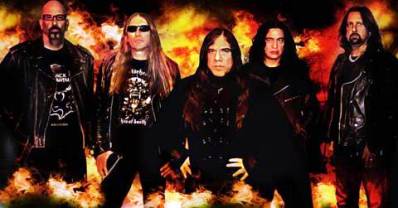 Legendary U.S. metal band Malice is going to be playing at Malone's, in Santa Ana, on July 14, as they promote their brand New Album "New Breed of Godz" Out now on Steamhammer/SPV.  Listen to a new song from Malice entitled "New Breed of Godz" HERE.
Malice signed a worldwide deal with SPV / Steamhammer. Original members Jay Reynolds (guitars), Mick Zane (guitars) and Mark Behn (bass) entered the Silver Cloud Studios in Los Angeles together with new singer James Rivera (Helstar) and new drummer Pete Holmes  (Black N´Blue) to re-record some of their classics plus 4 new songs. The producer is Joe Floyd (Warrior) who also was involved in producing records of Bruce Dickinson and Rob Halford. The album is scheduled for a May 2012 release. "We were all amazed at the great crowd responce and turn out for the gigs we played in 2011 , and it feels great to have a well known label like SPV behind us, be in the studio with a veteran line up and have a killer producer…… there will no longer be an abscence of MALICE !!" comments Jay Reynolds. The band can`t wait to go on tour and dates will be announced soon. Bass player Robert Cardenas (Agent Steel) , who also recorded the new tracks in the studio, will step in for Mark Behn on the live front.
Malice was formed in 1981 and released two albums: In The Beginning (1985) and License To Kill (1986) and one EP Crazy In The Night (1989). They also were part – and the only band with two songs – of the first legendary "Metal Massacre"-Sampler in 1982. Malice toured in the US, Canada and Europe with bands like Alice Cooper, WASP and Slayer. Most memorable gig was in 1982 when Malice played in Los Angeles at the Troubador Club – support act was an unknown band called……. Metallica.
LINE-UP:
Jay Reynolds – guitars
Mick Zane – guitars
Mark Behn – bass (played on the re-recorded songs)
Robert Cardenas – bass (played on the new songs)
James Rivera – vocals
Pete Holmes – drums
Malone's is located at 604 East Dyer Road  Santa Ana, CA 92705.