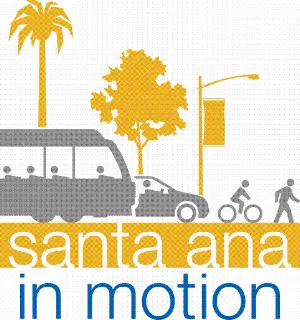 SANTA ANA, CA (February 3, 2012) – Over the next year, the City of Santa Ana will be working closely with residents to update the General Plan Circulation Element and develop "Complete Street" policies.
Attend one of the upcoming community Open Houses and share your ideas and suggestions for:
• Reducing traffic congestion
• Improving traffic flow
• Getting around on your bike or walking
• Making Santa Ana streets safer for all
• Community related challenges and opportunities 
Join us and TELL US WHAT YOU THINK.
Wednesday, February 8, 2012, 4:00 pm – 7:00 pm
Santa Ana Senior Center, 424 W. 3rd Street, Santa Ana.
Includes an optional guided walking tour of the area from 5:00pm to 6:00pm.
Saturday, February 11, 2012, 10:00 am – 12:00 pm
Southwest Senior Center, 2201 W. McFadden Avenue, Santa Ana.
Includes an optional 4 mile guided tour by bicycle from 9:00-11:00am. You are required to bring your own bicycle and helmet to participate in this ride. Parents, activities for young children will be provided during the Open House.
The City's Circulation Element – a citywide guide for transportation — focuses on roadways and other transportation modes including public transit, railroads, pedestrian and bicycle paths that provide a full range of travel options designed to benefit all Santa Ana residents.
To learn more about this community effort or to share your ideas please visit www.santa-ana.org/santaanainmotion or contact the City Planning Division atSantaAnaInMotion@santa-ana.org or (714) 667-2792.
###

Get Involved and Stay in Touch
The public Open Houses are planned for the community to participate in shaping the City's General Plan Circulation Element and Complete Streets plan. You are also invited to share your ideas, ask questions or sign up to receive future updates by sending an e-mail to SantaAnaInMotion@santa-ana.org or calling (714) 667-2792.
Past Meetings
Complete Street Workshop – Laying the Foundation for Complete Streets
Monday, November 7, 2011
Santiago Lawn Bowling Center
501 East Memory Lane