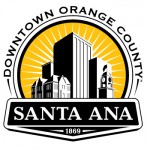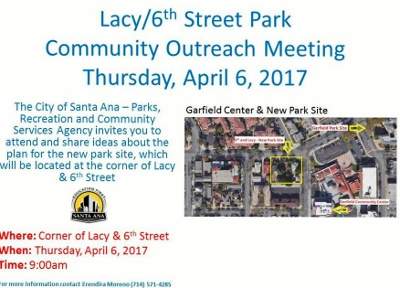 City of Santa Ana
Community: Lacy/6th Street Community Outreach Meeting / Junta de Enlace Comunitario sobre Lacy/6th Street
SANTA ANA, CA – The community is invited to participate in the upcoming Community Outreach Meeting on Thursday, April 6, 2017 at 9:00 a.m. at the corner of Lacy and 6th streets. This meeting is being held in accordance with the City's practice of informing the public of the procurement of the parcels located in the area of Lacy and 6th Streets to develop a community park.
Topics to be covered include:
• Brief history of the project
• Presentation of feedback
• Conceptual plan input
Light refreshments will be served. For more information, please contact Community Services Supervisor Erendira Moreno at (714) 571-4285 or email her at emoreno@santa-ana.org.
——————————————————————-
SANTA ANA, CA – Se invita a la comunidad a participar en la junta de enlace comunitario que se llevará a cabo el día jueves 6 de Abril de 2017 a las 9:00am en la esquina de las calles Lacy y 6ta. Esta junta comunitaria es parte de los requisitos de la Ciudad para informar al público sobre la procuración de una parcela del área para desarrollar un parque comunitario.
Temas durante la junta incluyen:
• Breve historia del proyecto
• Presentación de ideas aportadas
• Aportaciones al plan conceptual
Se servirán aperitivos ligeros. Para más información, comuníquese con Erendira Moreno, Supervisora de Servicios Comunitarios al (714) 571-4285 o al correo electrónico emoreno@santa-ana.org.