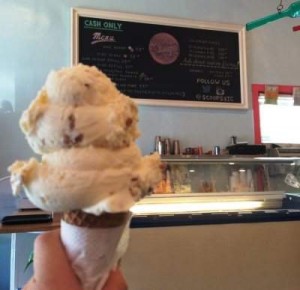 Scoops, a popular Los Angeles-based ice cream shop, will have its grand opening in Santa Ana from 1 p.m. to 9 p.m.,  on Friday, July 10, 2015, according to the O.C. Register.
Scoops' hours will be from 1 p.m. to 9 p.m. Monday through Saturday and 1 p.m. to 6 p.m. Sunday. They're located about four blocks from the East End, on the same block as St. Joe's, at 605 E. Santa Ana Blvd., Santa Ana, according to the OC Weekly.
Apparently the owners of Scoops, husband and wife team Peter and Valerie Ji, are opening their new location in Santa Ana because they feel the city is "up and coming."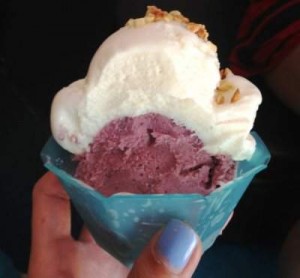 Scoops has a reputation for some pretty wild ice cream flavors, which include green tea, popcorn, brown bread, balsamic cherry, coffee Guinness and goat cheese and lavender honey.
The Santa Ana Scoops will also includ a pop-up stand for Contra Coffee & Tea starting in late July or early August.  The duo over at Contra are working on getting multiple taps online inside the store so you won't have to wade through the night market crowds to see 'em, according to the OC Weekly.
Contra plans on having 6 to 8 taps with beverages including its cold brew, hopped cold brew, Vietnamese iced tea and "dirty" horchata, at their Scoops pop-up location.