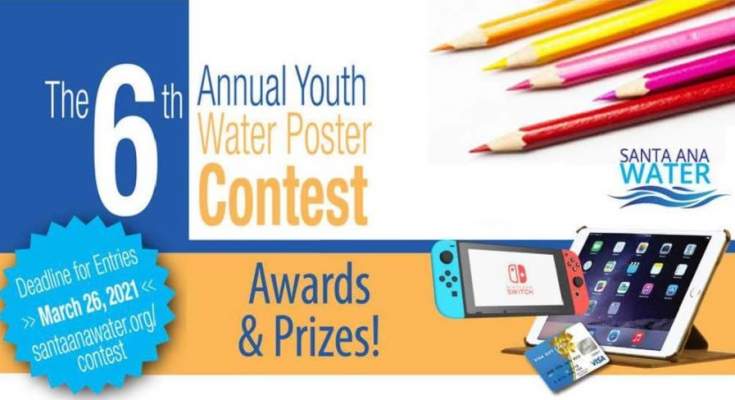 The City's Public Works Water Resource Division is hosting the 6th Annual Youth Water Poster Contest. The Water Poster Contest is open to all youth ages 5-18 residing in Santa Ana. The contest provides an opportunity for young people to become more aware of different water topics through artistic expression.
This year's contest theme is "Trust The Tap!" Winners receive an award and a Nintendo Switch, iPad or gift certificate. The deadline for entries is 4 p.m. on Friday, March 26, 2021.
For more information on the Water Poster Contest, visit http://santaanawater.org/contest/.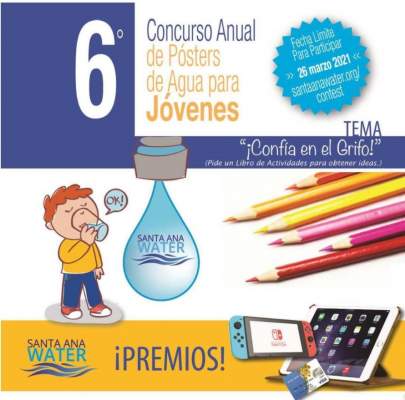 Concurso Anual de Pósters sobre el Agua para Jovenes en Santa Ana
La División de Agua de Obras Públicas de la Ciudad de Santa Ana organizará el sexto Concurso Anual de Posters de Agua para Jóvenes. El concurso estará abierto para todos los jóvenes residentes de Santa Ana entre 5-18 años de edad. El concurso da la oportunidad de expresarse artísticamente y estar consciente de los diferentes temas de agua.

El tema del concurso es "Confía en el Grifo!" Los ganadores recibirán un premio de reconocimiento, y un Nintendo "Switch", iPad, o certificado de regalo. La última fecha para entrar es el viernes 26 de Marzo 2021 a las 4 p.m.
Para más información acerca del concurso visita http://santaanawater.org/contest/.