KFCs in Southern California is gearing up for National Fried Chicken Day, on Wednesday, July 6, 2011, according to a DGWB press release.  KFC Southern California and the KFC Southern California Colonel are celebrating with a series of events and promotions leading up to National Fried Chicken Day.
For the first time in franchise history, all KFC SoCal locations will honor the holiday with an offer for 8 pieces of chicken for $4.99 with a coupon redeemable on July 6 only. This special coupon is available on the KFC SoCal Facebook page.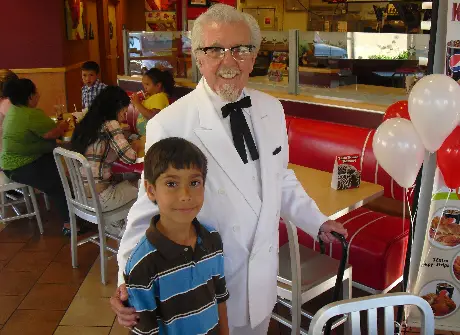 I attended a special food blogger and media dinner on Thursday, June 30, at the Fullerton KFC, along with my wife and my eight year old son, to learn more about National Fried Chicken Day; bone-up on the history of KFC's famous Original Recipe® and participate in a hands-on Original Recipe demonstration; and of course, talk all things fried chicken with the KFC So Cal Colonel.
We had a great time.  We were served free appetizers and drinks and then we placed our orders for a three piece dinner and we headed for the kitchen, where I washed up, donned an official KFC cap and apron, and headed for the food preparation counter.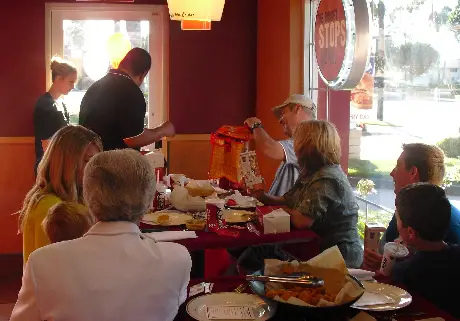 The KFC regional training manager, Nancy Franco, and Area Coach Heidy Cruz patiently walked me through the steps involved in making KFC's delicious fried chicken.  We started by inspecting the fresh, never frozen, chicken and then placed the chicken pieces in a wire basket that we then dunked in fresh water.  After draining the chicken we placed the pieces in flour that was already mixed with butter, milk and their special secret seasonings.
I found out that their chicken is delicious because of the way it is prepared.  Every step is carefully planned and executed to perfection each and every time.  And I found out that their 12th ingredient is – pride.  KFC's cooks take great care and pride in preparing their signature fried chicken.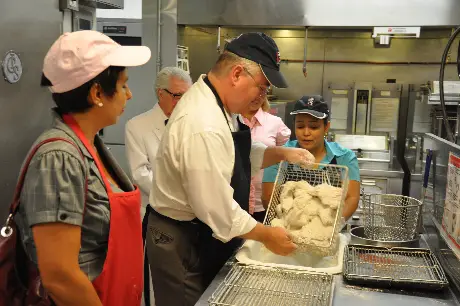 When we finished the chicken was set on a wire tray and placed in a pressure fryer for a set time at a set temperature. We washed up and enjoyed our dinner and we got to take the chicken we cooked home, where my two older sons, my daughter and their cousin Jesse were eagerly waiting.  They made short work of my cooking!
We also got to meet the Colonel.  He was a blast to talk to.  Before we left he also gave us official Colonel Sanders Bobbleheads.
National Fried Chicken Day puts the finishing touches on the KFC So Cal Colonel's tour of Southern California KFCs in celebration of the original Colonel Sanders' 120th birthday. The second-generation Colonel, who also hails from Kentucky, has visited more than 25 Southern California KFC restaurants over the past few months to check in on cooks and make sure the Original Recipe is being prepared the way the original Colonel Sanders intended.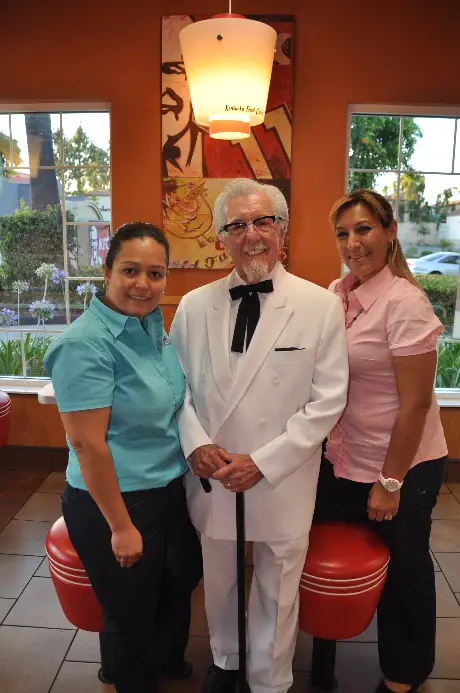 ABOUT KFC
KFC Corporation, based in Louisville, Ky., is the world's most popular chicken restaurant chain specializing in Original Recipe®, Extra Crispy™ and Original Recipe Strips with home-style sides, Honey BBQ Wings, and freshly made chicken sandwiches. There are more than 14,000 KFC outlets in more than 80 countries and territories around the world, serving some 12 million customers each day. KFC Corporation is a subsidiary of Yum! Brands, Inc., Louisville, Ky.
DGWB Media Contacts: Bob Ochsner, DGWB PR, O: (714) 881-2341, M: (949) 233-0984, bochsner@dgwb.com