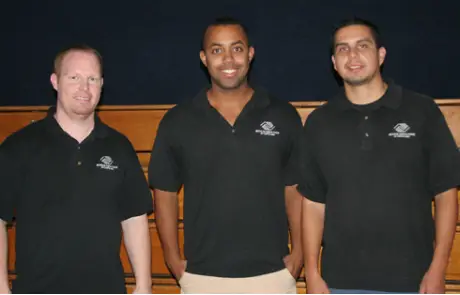 BGCSA Director of Development Departs for New Role with Boys & Girls Clubs of America
SANTA ANA, Calif. – Boys & Girls Club of Santa Ana Director of Development Tim Hogan has accepted the position of Director of Development, Corporate for the Pacific Region of Boys & Girls Clubs of America. In his new role, Hogan will plan and implement aggressive fundraising programs with major corporations based in the Pacific Region. He will begin his new role July 11, 2011.
"We are very excited for Tim and the new challenges that lie ahead of him," said BGCSA Chief Professional Officer Robert Santana. "It is a great move for his career with increased responsibility and broader impact, and though he will be missed, we are confident that the progress we have made during Tim's tenure will continue well into the future."
Hogan has been with the organization since June of 2009, and during that time the Boys & Girls Club of Santa Ana has seen tremendous growth in the areas of communication and outreach, in addition to overall development structure that has set the organization on a path to long-term success. His development team also managed to create productive partnerships with organizations like the Second Harvest Food Bank, CH2M HILL, Golden State Foods, Pacific Life, PIMCO and many others throughout the area.
"I am very much looking forward to my new opportunity with our national organization, which will allow me to help Clubs across the country gain the resources they need to run as efficiently as the Club here in Santa Ana," said Hogan. "I couldn't be more grateful to our staff, our Board and our partners for everything they have done for this organization in my time here."
During the last two years, a completely redesigned website, increased contacts through social media and consistent messaging through print and electronic communications have strengthened the Club's presence within central Orange County. Hogan's development team also created a series of wine and beer tasting events called BLEND of Orange County, designed to raise funds and connect individuals to the mission of the Club throughout the year.
Hogan also supported the BGCSA Resource Development Committee as it led the Board of Directors through its first two years of the "It Just Takes One" Campaign, an individual giving process designed to raise unrestricted funds for the organization. In two years, the One Campaign raised over $190,000 and built a structure within the Board for increased growth with each passing year.
Over the course of the last several years, the Boys & Girls Club of Santa Ana has set in motion several initiatives in preparation for the organization's growth. Hogan's energy, creativity and progressive approach to development has prepared the Club for this growth, and the staff and Board are excited to continue moving forward.
"We wish Tim the very best of luck in his endeavors with our national organization," said Santana, "and for his dedication and passion for our mission, we thank him."
Effective July 11, 2011, BGCSA Director of Operations Steve Savage will act as Interim Director of Development. Savage may be contacted at 714-543-5129 or ssavage@boysandgirlsclub.com.
– 30 –
Boys and Girls Club of Santa Ana
250 N. Golden Circle, #104
Santa Ana, CA 92705
www.boysandgirlsclub.com
Contact: Robert Santana
714-543-5540 (direct)
714-565-1099 (fax)
robertsantana@boysandgirlsclub.com