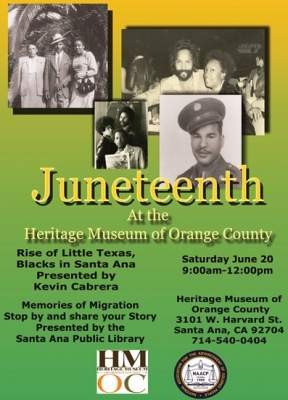 PRESS RELEASE
Juneteenth Celebration – Event for all ages ~ Juneteenth Celebration and Lecture
The Heritage Museum of Orange County in partnership with the Santa Ana Public Library and the NAACP presents a Juneteenth celebration at the Heritage Museum of Orange County in Santa Ana, on Saturday, June 20, 2015, from 9:00 a.m. to 12:00 p.m.
Interim Director of the Heritage Museum, Kevin Cabrera, will give a captivating lecture titled, "Rise of Little Texas, Blacks in Santa Ana" that specifically discusses the growing African-American community in Santa Ana. The Juneteenth celebration will be honoring African-Americans who have moved to Santa Ana and the surrounding areas and called the city their home.
The Juneteenth celebration commemorates the ending of slavery in the United States which happened on June 19, 1865. The event is honored yearly on June 19th, where African-Americans come together and share food, stories, and observe community.
Not only will Mr. Cabrera be presenting, but also the Santa Ana Public Library representatives will share "Memories of Migration", an IMLS funded program that equips pointedly teen historians with the skills to collect migration stories from family, friends, and community members. The Memories of Migration will be collecting migration stories during the event so please stop by to share your story and learn more about the Memories of Migration project.
For more information please call 714-540-0404.
###
The Heritage Museum of Orange County is a cultural and natural history center dedicated to preserving, promoting, and restoring the heritage of Orange County and the surrounding region through quality hands-on educational programs for students and visitors of all ages. For more information, visit http://heritagemuseumoc.org/.
Heritage Museum of Orange County
3101 W. Harvard Street
Santa Ana, CA 92704