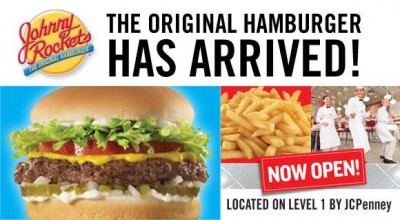 Johnny Rockets has landed at Santa Ana's Westfield MainPlace Mall, on the lower level, by JC Penney.  Click here to check out their menu.  Be sure to sign up for their e-club to get special promotions by email and text messages.
Here is what they had to say on the MainPlace Facebook Page:
Get ready to enjoy food, fun and friendliness reminiscent of feel-good Americana. Boasting great tasting food from a menu of favorites, Johnny Rockets menu includes juicy hamburgers, classic sandwiches and hand-spun shakes and malts. Guests also enjoy an all-American look and feel, servers who know the secret behind getting ketchup out of the bottle, tabletop jukeboxes and authentic décor.
Johnny Rockets is located on level 1 near JCPenney.
Ronn Teitelbaum, an award-winning men's fashion retailer, launched the first Johnny Rockets on June 6, 1986, on Melrose Avenue, in Los Angeles, California. He founded the concept on the belief that everyone deserves a place where they can escape from today's complicated world and experience the uncomplicated goodness of classic Americana. The name originated by combining the timeless Johnny Appleseed story with the classic Oldsmobile Rocket 88. Together, they embody the concept of classic Americana and the promise of the future.
Johnny Rockets has about 300 corporate and franchise-owned restaurants in 30 states and 16 countries, including 17 Six Flags amusement park locations and 11 Royal Caribbean cruise ships.
Each year, Johnny Rockets serves 17 million Hamburgers, 11.3 million soda pops, 8.3 million Shakes and Malts, 8 million pounds of Fries, 2.1 million orders of Onion Rings and 815,000 gallons of ice cream.