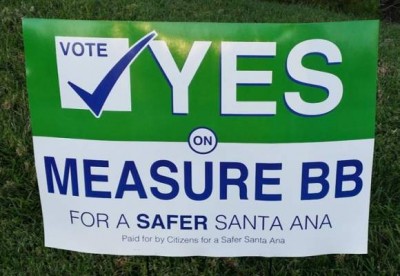 Apparently someone has been soliciting campaign contributions from certain Santa Ana medial marijuana collectives for the City of Santa Ana's flawed and fraudulent Measure BB, and implying that this will help them to get a conditional use permit in Santa Ana – but only if the City's badly written Measure BB is wins on Nov. 4, according to OC NORML.
There are several reasons why this is not a good idea:
The City's Measure BB is badly written and will be litigated immediately.
Any medical marijuana that rolls over for the City of Santa Ana's blatant extortion campaign will be scrutinized by the media as this arrangement with the City of Santa Ana is blatantly corrupt.
You simply cannot trust the City of Santa Ana!  How many times have they burned local businesses and residents!  Even now they are trying to pass a Utility Tax Increase, Measure AA, that is masquerading as a tax decrease!
The Measure BB campaign got a very late start and has no volunteers to speak of.  Their campaign signs have been placed randomly all over the city – in some cases on public property and in others on private property – without permission.
The City's Measure BB, if passed, requires everyone to shut down their dispensaries the day after the election, on November 5.  And any dispensary that has ever had a licence or permit denied or received a code enforcement violation will not be able to apply for a Measure BB City Permit.
The City's version includes a massive $30k fee and a sketchy lottery process.
Telling dispensaries they cannot gain legal status in Santa Ana unless they contribute to the City's Measure BB is flat out extortion and corruption!  Everyone should have the same opportunity whether they gave money or not.
READ the City's full measure before getting involved and don't trust people coming down from Sacramento. And you can still cancel your check if you have given one to the Measure BB hucksters.
REBUTTAL TO ARGUMENT IN FAVOR OF MEASURE BB
A majority of Santa Ana Community Leaders urges a NO VOTE on  Measure BB. Voting No on Measure BB will send a clear message  to the City Council that they cannot lie and deceive the Citizens and  Voters of Santa Ana.
THE CITY COUNCIL'S Measure BB will restrict Medical Marijuana  Dispensaries to such a small area of Santa Ana that SUPER RETAIL  sites will be the only option to responsible Cannabis providers.
The Santa Ana City Council Measure BB sponsors have lied to the Voters about:
Measure CC was promoted by concerned Patient Advocates, NOT MARIJUANA GROWERS or Dispensary Operators.
 Petition Signature qualified Measure CC does NOT allow Mobile Trucks at all.
 Measure CC has adequate taxation rate to pay for Police Enforcement.
Measure CC does not SET ANY HOURS of operation. The City Council can enact reasonable hours of operation if the City Council could find the will to cast a vote as they were elected to do.
Measure CC duplicates State Law requiring a 600 foot separation from schools.
Proponents of Measure CC attempted to engage the City Council since 2010 to draft a law that would be to the Council's satisfaction.
The City Council forced Citizens to gather signatures to place Measure CC on the ballot. Direct Democracy was used when Santa Ana Elected Officials ignored the needs of their Citizens.
Vote NO to the City Council's Measure BB.  A NO VOTE on Measure BB will tell the City Council to do the JOB  they were elected for.
s/ Guy A. Lopez
Resident
s/ Elisabeth F. Lopez
Business Owner