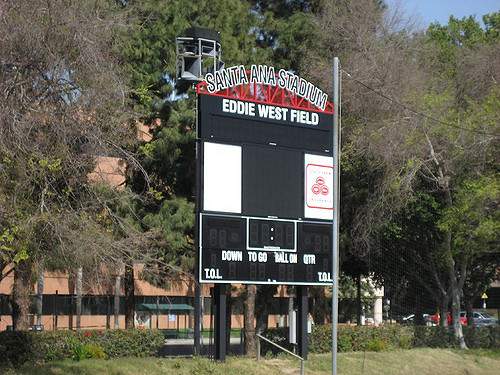 The City of Santa Ana is broke – for many reasons including the granting of raises to the top executives at City Hall a couple years ago as well as our tradition of hiring overpaid city managers then firing them with a six figure parting gift. On top of that we are facing millions of dollars in pension and health care costs for our retired city employees. So what to do?
One idea that many cities are embracing is selling naming rights to city venues. Santa Ana could rake in hundreds of thousands of dollars a year by doing this!
For example, did you know that Eddie West Field is named after Eddie West, who became the sports editor of The Orange County Register in 1922? Now we can keep calling that stadium Eddie West or we can sell the naming rights to perhaps one of our top local marijuana dispensaries and help them to promote their pot sales while filling up our city coffers with the naming rights fee and the taxes we now collect on cannabis sales.
How about the Dan Young Soccer Complex? That former Mayor retired eons ago and now lives in Coto De Caza. Why put his name on this complex? Let's name it the Nike or Adidas Soccer Complex and make some money!
We can also put ads on city trucks and turn them into rolling billboards? We can even put logos on our city uniforms and sell those rights too!
Many cities are doing this! Why is Santa Ana so behind the times yet again?
Click here to read what Wikipedia has to say about civic naming rights.