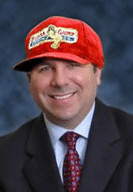 Santa Ana Council Member Carlos Bustamante once told an audience at a fundraiser (for his failed Supervisorial campaign) that his life was like Forrest Gump – a movie character who lucked into one success after another.  While folks were shocked at the time, he was right – at least up until he got into trouble this past week, at work, where he is now facing serious sexual harassment allegations.
Bustamante got a job as a middle manager a couple years ago, at the County of Orange.  Today he is a vastly overpaid Orange County Public Works Director of Administration – and he does not appear to be qualified for the job.  In fact his pay has come under scrutiny since an internal County audit revealed that his last few raises were not merited.
Let's take a look at his "qualifications" and background:
According to his City bio, Carlos Bustamante was born in Santa Ana to immigrant parents in 1965. He attended Mater Dei High School and enlisted in the U.S. Air Force shortly after graduation.
In the Air Force, Carlos was assigned to Space Command, 2nd Space Communications Squadron in Colorado, where he helped defend the United States against nuclear missile attacks.  He was awarded the Air Force Achievement Medal and a Certificate of Recognition from the U.S. Secretary of Defense for his dedicated service during the "Cold War."  Seriously?  Bustamante saved our country from nuclear attacks?  How in the world did this guy's life not end up in a movie?  How much exactly is he TOTALLY EXAGGERATING?
After serving his country for three years, (he managed to save the world in three years?) Carlos enrolled at Santa Ana College, earning an Associate Degree in Liberal Arts and transferred to California State University, Fullerton, majoring in Business Administration, with a concentration in Finance and in 1991 earned his Bachelor of Arts degree.
Carlos earned a Master's Degree in Organizational Leadership and a Graduate Certificate in Human Resources Management from Chapman University in 2003 and 2004, respectively.
Following graduation from Fullerton, Carlos accepted a position with the Los Angeles County Marshal's Office as a Background Investigator.
Later, he was offered a position with the State of California, Board of Equalization (tax investigations).
While employed by the State, Carlos was recruited by the Department of Alcoholic Beverage Control (ABC) and attended Golden West Police Academy. He began his career as an agent for ABC and was shortly thereafter recruited into the Special Operations Unit where he conducted narcotics, USDA fraud & multi-agency undercover investigations.
You know what I don't see in his resume?  No experience or education in construction or project management.  And no engineering education or experience.
Let's see what else he has to say about his career:
In 2000 Carlos accepted a position with the County of Orange, County Executive Office as a Human Resources Manager where he oversaw the County's Marketing Program.  (Note that he got this job BEFORE he earned his graduate certificate in HR, in 204).
In 2003 he was promoted to a Senior Manager position working for the Chief Information Officer where he was responsible for countywide information technology projects and managing the county's web team.  (Does this guy even know html?  He once admitted he could barely use email!)
In 2005 he was promoted to Assistant Director, Planning & Development Services for the County of Orange and currently serves as Director of Administration, Orange County Public Works.  (Carlos jumped the shark!  He was not at all qualified for either of these jobs!)
Let's recap – Bustamante was NOT qualified for any of the jobs listed above.  He has no education in Information Technology, Planning and Development, Administration or Public Works.  No experience save for what he did in these positions.  One can only imagine what exactly Bustamante does during the day.  This totally reminds me of the T.V. comedy show, The Office.  I can just see him walking around sharpening pencils all day!
So how much is Bustamante making?
Bustamante was the OC Public Works administrative director when he was promoted to executive manager to also oversee OC Facilities. OC Public Works Director Jess Carbajal told auditors in December that Bustamante could not do the entire job because of potential conflicts with his City Council position. Santa Ana pays for half of the Civic Center maintenance costs; the county the other half. Carbajal said the assignment was temporary; the CEO said it was permanent. Bustamante was the Republican establishment's preferred candidate for an open seat on the Orange County Board of Supervisors in 2007. He finished fourth in the contest. The county paid him $156,178 last year. (O.C. Register).
How did Bustamante rise so quickly and make so much money?  He hooked up some years ago with Rob Richardson, the SAUSD Trustee who is the Assistant O.C. CEO.  Richardson, by the way, got busted for his raises too:
Assistant CEO Rob Richardson, a former Santa Ana city councilman and current member of the Santa Ana Unified School District, saw his pay increase 33.13 percent in just six months after he was promoted from assistant to the CEO in January 2006. The promotion came with a 27.4 percent raise – retroactive 6 months. That same day, he also received a 2 percent countywide merit increase. Six months later, was given another 4.5 percent raise. In April 2008, Richardson was given another 8.3 percent raise. None of the pay raise requests, according to auditors, came with the required justification. Richardson earned $194,489.60 last year.
Remember, Bustamante and Richardson are Republicans – but they seem to be OK with wasting our tax money – on themselves.  I think the few Republicans left in Santa Ana will remember this on Election Day, that is if Bustamante and Richardson have not resigned from their respective offices by then.