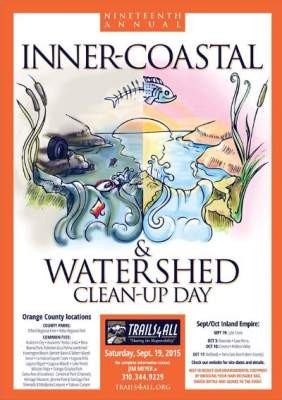 The 19th Annual Inner Coastal and Watershed Clean Up Day is set for Saturday, Sep. 19, 2015.
Santa Ana residents may get involved by joining the clean-up at Santiago Park. Registration begins at 9 a.m. and event ends at 12 p.m. For more information please call the Nature Center at 714-647-6902.  Meet at the Santiago Park Nature Center, located at 600 E. Memory Lane, in Santa Ana.
WHAT IS COASTAL CLEANUP DAY?
Every year, on the third Saturday in September, people join together at sites all over California to take part in the State's largest volunteer event, California Coastal Cleanup Day. In 2014, nearly 67,000 volunteers removed more than 1,190,000 pounds of trash and recyclables from California's beaches, lakes, and waterways. Families, friends, coworkers, scout troops, school groups, service clubs, and individuals come together to celebrate and share their appreciation of California's fabulous coast and waterways. The event is part of the International Coastal Cleanup, organized by the Ocean Conservancy, which is the largest volunteer event on the planet!
Orange County locations
COUNTY PARKS:
O'Neill Regional Park • Yorba Regional Park
COMMUNITIES:
Anaheim City • Anaheim/ Yorba Linda • BreaBuena Park, Fullerton & La Palma combinedHuntington Beach: Bartlett Basin & Talbert MarshIrvine • La Habra/Cayote Creek • Laguna HillsLaguna Niguel • Laguna Woods • Lake ForestMission Viejo • Orange/Grijalva Park • Santa Ana (4 locations) : Centenial Park (Channel),Heritage Museum, Jerome Park & Santiago Park • Silverado & Modjeska Canyons • Trabuco Canyon
Sept/Oct Inland Empire:

SEPT 19: Lytle Creek
OCT 3: Riverside • Lake Perris
OCT 10: Corona • Hidden Valley
OCT 17: Redlands • Twin Oaks Ranch (Kern County)
HELP US REDUCE OUR ENVIRONMENTAL FOOTPRINT BY BRINGING YOUR OWN REUSABLE BAG,WATER BOTTLE AND GLOVES TO THE EVENT.
For complete information contact JIM MEYER at 310.344.9229, trails4all.org.