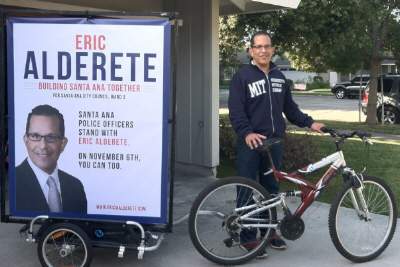 Did anyone see this coming?  Somehow Angelica Amezcua, an unknown schoolteacher who did not file a candidate's statement, did not buy signs or mailers and did not campaign, won in Santa Ana's Ward 3, over well-funded East L.A. lawyer Eric Alderete, a Santa Ana Planning Commissioner.
How did she do this?  Well, for starters, she was the only female candidate and she has a great ballot I.D.  People like schoolteachers!  And Alderete made a terrible mistake in this race.  He got in bed with John Palacio and David Benavides.
Let me explain that.  SAUSD Trustee Palacio was threatening to run for Ward 3. Alderete should have told Palacio to go such an egg, but instead he cut a deal with him.  Alderete was forced to get behind lame mayoral challenger David Benavides and equally lame SAUSD Candidate Valerie Amezcua, who is no relation to Angelica.  In return, Palacio got out of the Ward 3 race.
Imagine if Alderete had instead worked with Santa Ana Mayor Miguel Pulido?  Alderete would have won easily.  Instead he was dragged down into the mud by Benavides.
Now it looks like an unknown schoolteacher won easily in Ward 3.  What an amazing turn of events!  I am glad though.  Alderete is a nice guy but he supported Benavides and he also endorsed every single tax increase measure on the November ballot.
What this win means is that Team Benavides is waking up this morning in a world of hurt.  Mayor Miguel Pulido beat David Benavides in a huge win.  While Council Member Vince Sarmiento won in Ward 1, his unknown opponent, got real close, without spending any money.  Sarmiento was going to run for Mayor in 2014, but now he has to wonder about that as he is not as popular as he thought he was.  The only good news for Benavides is that his pal Roman Reyna won in Ward 5, but it is very obvious that Reyna, Benavides and Michele Martinez are now going to have a seat at the little kids' table.
Yes, I predict that before long Pulido, Amezcua, Tinajero and Sarmiento will be voting as a new Council majority.  The Benavides nightmare is over.  The dirty race he ran, complete with attacks by out of town high density apartment developers on Pulido's kids, is now in the record books as one of the worst campaigns in the history of Santa Ana.  And Benavides allies Myriam Tinajero and Valerie Amezcua lost too, over in the SAUSD School Board race.  What a night!